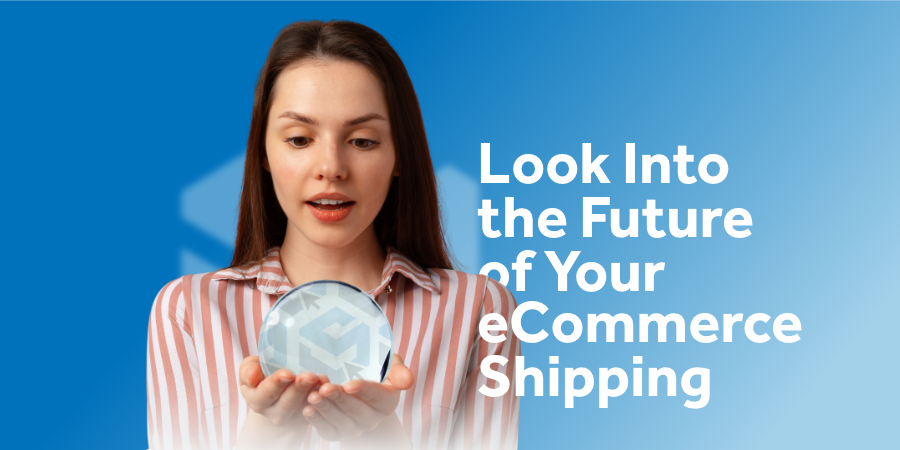 Well, ClickShippers, you made your way to the end of the year!
For shippers of all shapes and sizes, 2022 was not an easy year to navigate.
Continued uncertainty across the supply chain, a return to in-store shopping and above-average shipping rates contributed to a slower year-over-year growth in the eCommerce market.
This, naturally, begs the question: what does 2023 have in store?
Will this coming year be another filled with uncertainty, or will the shipping industry finally find its way back to where it was in 2020?
We have some ideas for how the new year might turn out.
Shipping Rate Relief May Be on the Way
The same story has emerged over and over since 2020: forecasts predict pre-pandemic shipping rates will return, only to rise over time.
In what ways will the coming year be different from the last?
Based on the Canadian General Freight Index report published in November, freight costs decreased from August to September across the board. This includes the first decrease since October 2021 in base freight costs.
In 2023, freight rates are predicted to fall by 20-30% according to a recent report from S&P Global Market Intelligence.
Are these results a guarantee of a return to pre-pandemic shipping rates? Definitely not.
It is highly unlikely that rates will ever be able to return to what they were three years ago due to ongoing problems with COVID, the continuing conflict between Ukraine and Russia, and ever-increasing crude oil prices.
The good news is, whatever direction freight rates go, courier rates have historically followed, so if the forecasts are accurate, your business and your customers will benefit.


Source: Ibis World
eCommerce is Still Growing, But So is In-Store
Since 2020, eCommerce revenue in Canada has grown from 8% per year pre-pandemic to over 20% per year, keeping many businesses afloat over the past three years.
In spite of the prediction that the eCommerce boom, combined with the pandemic, would drastically, permanently impact in-store shopping, Statistics Canada indicates that in-store retail sales have continued to rise.
Taking these statistics into account, we can infer that eCommerce business owners will face fierce competition in 2023 from both online and physical retail spaces, so it is more important than ever to improve your customer experience this year, particularly by establishing a solid shipping strategy as soon as possible.

A Green Wave is Coming from Carriers
Shippers have been striving to reduce their carbon emissions for some time, but recent news suggests that 2023 may be the year when these initiatives really take off.
It was announced earlier this month that a large-scale electric vehicle (EV) plant would start production by 2025 that is forecasted to produce 50,000 zero-emission vans per year.
Several carriers are partnering with EV manufacturers which began in 2020, with large-scale orders for vans now in progress.
The implications of this will not be realized this year, however, EV technology might become the industry standard in due time, reducing carriers' reliance on fossil fuels and lowering rates.
Whether it starts a trend or not, the sudden switch to EV's by prominent carriers will, if nothing else, set the precedent for more carriers of various sizes to follow suit in the near future.


Source: Wikipedia
Rising Interest Rates Could Bring Long-Term Growth
Business owners cannot avoid this topic, even though it's one they don't want to address.
To combat recent rapid inflation, Canadian interest rates reached a 39-year high of 8.1% in June.
This tactic has been moderately successful in the short-term, but it is uncertain whether it will be sufficient for the long term. It is possible that further hikes will be necessary.
In 2023, smart business owners will focus on the right type of growth. Increase your customer base by expanding markets, expanding product lines, and adding new products to your portfolio.
In the long run, when interest rates have cooled down, your business will be better equipped for growth than those who spread their resources too thin this year.
ClickShip Will Have Your eCommerce Shipping Covered in 2023 and Beyond!
No matter what the best research from the most renowned industry experts may say, there is no real guarantee as to what the coming year has in store for shippers.
Bearing that in mind, one prediction we can make with 100-percent accuracy is that ClickShip will continue to offer the best eCommerce shipping solutions for your business.
We partner with North America's leading LTL and parcel carriers and integrate with leading eCommerce platforms and marketplaces to offer you better rates on all your shipping, in real time, directly at checkout, all for zero upfront and monthly fees!
Contact one of our shipping experts today and let ClickShip help you boldly prepare your shipping for 2023, and all the years to come