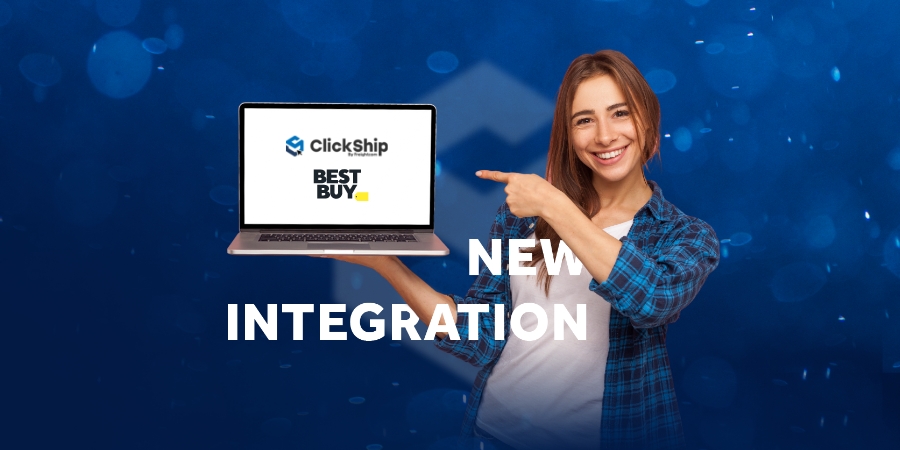 Best Buy Marketplace has risen in recent years to become a Leading eCommerce marketplace. More than simply a platform for tech-centric businesses, Best Buy Marketplace allows sellers to utilize their platform to list a wide range of goods, improve their visibility and customer reach, and to ultimately grow their businesses.
Best Buy Marketplace's focus on providing a digital space that focuses on a top-notch experience for customers and merchants alike is key to ClickShip's own core values. It is why we are so excited to announce that ClickShip now integrates with the Best Buy Marketplace platform!

What does Integration with Best Buy Marketplace Mean for ClickShip Customers?
As one of the largest consumer electronics retailers in Canada[1], Best Buy boasts a sizeable online presence, with an average of 400 million visitors to Bestbuy.ca every year.
Best Buy Marketplace is an eCommerce platform that offers third-party merchants the opportunity to list and sell their products directly on Bestbuy.ca. Best Buy Marketplace offers its merchants such benefits as fraud protection, store optimization, and customer service support. Further, Best Buy Marketplace offers seamless integration with a broad list of additional services through their integration partners, including ClickShip!
In short, ClickShip customers now have another leading marketplace in which to expand their multichannel sales strategy!
What does Integration with ClickShip Mean for Best Buy Merchants?
Best Buy merchants looking for a better shipping and fulfillment experience for their business and their customers do not need to look further. With ClickShip now integrating with Best Buy Marketplace, Best Buy Merchants now have access to the most complete eCommerce shipping platform in Canada.
Merchants who integrate ClickShip with their Best Buy Marketplace store can offer their customers exclusive rates from major carriers on LTL freight and courier shipping.
Our Smart Packaging technology makes fulfillment a snap, allowing you to prepopulate packaging weight and dimensions for products within ClickShip, providing more accurate rates and getting your orders to a carrier that much faster.
That's only the beginning of how ClickShip helps. ClickShip customers also get such benefits as automatic real-time tracking updates on all shipments, custom branding on shipping labels, emails, and packing slips, and free residential pickups on courier orders.
How to Integrate ClickShip into Your Best Buy Marketplace Store
To integrate your Best Buy Marketplace store with ClickShip, it's important that you have a ClickShip account. If you do not have a ClickShip account, please visit www.clickship.com and signup today! From there, integrating into your Best Buy Marketplace store is as easy as following these steps:
Login to your Best Buy Seller account and click on your email address to go to your account page
Click on the "API Key" tab and copy your API key (

If you don't have an API key, you can generate a new one)

Login to your ClickShip account and go to the Marketplace page
Click "Add New Store" and select Best Buy
Enter your store name and your API key and click "Connect to Store"
Click "Approve" when asked for permissions, and watch as your orders and products begin to import to ClickShip
We recommend that you ensure that your products' weight and dimensions be updated after import for a faster fulfillment process down the line. From there you're ready to offer a better shipping experience to your Best Buy Marketplace customers!
Ready to Take the Next Step?
If you aren't currently a ClickShip customer, the time to experience a better eCommerce shipping experience is now! Our all-in-one eCommerce shipping platform integrates seamlessly with Best Buy Marketplace, as well as platforms and marketplaces like Shopify, Wix, Etsy, Amazon, Wal-Mart Marketplace, WooCommerce, Magento, and more!
For more information about how ClickShip can help, call our Shipping Experts from Monday to Friday 9am to 5pm EST at 1-877-335-8740 or email customercare@clickship.com and enhance your eCommerce shipping today!
---
[1] https://ecommercedb.com/en/ranking/ca/consumer-electronics