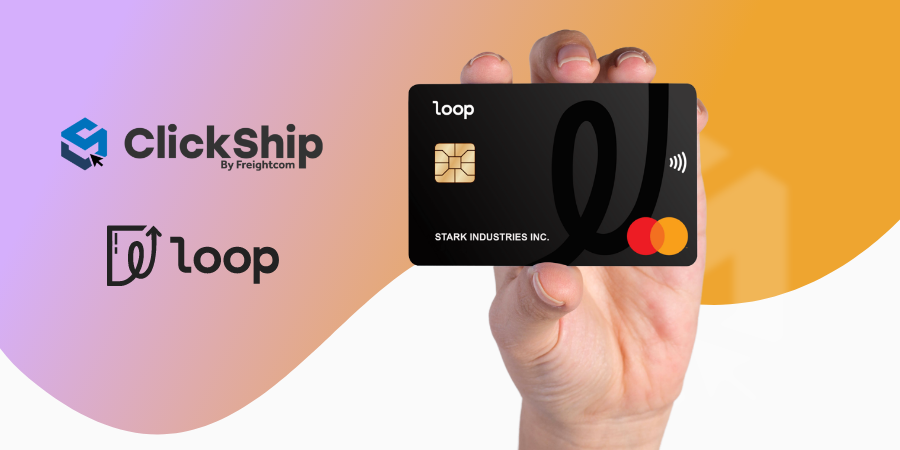 For immediate release: ClickShip partners with Loop to support Canadian ecommerce business growth across the border
ClickShip, the innovative easy-to-use shipping solution for eCommerce stores, has partnered with Loop, the banking platform for Canadian businesses, to help their businesses save money and accelerate their growth.
ClickShip members will reduce their shipping costs by connecting Loop to their ClickShip account. In addition, ClickShip users will receive exclusive offers for Loop's banking platform. Loop offers a suite of products and services that are built for Canadian businesses who do business in Canada, the United States and around the world. These products include:
Multi-currency corporate cards that eliminate FX fees, extend cashflow with up to 55 days of interest free spending and dynamically scaling credit limits

Free global payments to make sending money around the world via EFT, ACH and Wire fast and seamless

The ability to do currency conversion at much better rates than traditional providers

Local account details in the US to make it easy to receive funds from customers, payment providers or marketplaces in the US

Capital to support food businesses via purchase order financing, invoice financing and inventory financing
Loop customers will also receive exclusive offers when they sign up to ClickShip. ClickShip's all-in-one eCommerce shipping platform offers better rates on shipping from North America's leading carriers, and integrates seamlessly with platforms and marketplaces like Shopify, Wix, Etsy, Amazon, Walmart Marketplace, WooCommerce, Magento 2, Lightspeed and more, all with zero start-up or monthly fees.
ClickShip and Loop share a common mission to enable ecommerce businesses to go global. Both Loop and ClickShip allow businesses of all sizes to access products and features that were historically reserved for bigger businesses. Starting today, businesses will be able to access exclusive offers from Loop and ClickShip by logging into their account with their respective provider.
"At ClickShip we always want our eCommerce businesses to succeed first. As a result of our partnership with Loop, ClickShip users will be able to create, grow and scale their eCommerce businesses in an exciting new way" said Aditya Prakhar, Director of Growth, ClickShip. "In the future, we will continue to assist entrepreneurs in further developing their eCommerce businesses to achieve their goals and reach their dreams."
"Shipping is one of the largest cost centers for ecommerce businesses that we work with at Loop - having the right product to manage shipping can be critical to their success," said Cato Pastoll, Loop CEO. "Through this partnership, Loop and ClickShip are enabling customers to pair powerful financial products with a tailor-made shipping management system. Together, we will help founders save time, reduce costs and continue to grow their business."
About ClickShip
ClickShip helps over 4000+ businesses with their eCommerce and standalone shipping needs within Canada, Cross-Border and Internationally. Reduce your abandoned carts and improve your customer experience with the best shipping rates delivered directly to your checkout.
ClickShip offers personal account concierges to help walk you through your first parcel or pallet shipment. If you require an integration, ClickShip offers integrations into Shopify, Magento, WooCommerce, BigCommerce, Etsy, eBay, Amazon and so many others. From simple to advanced features, ClickShip has you covered with real time rates at checkout, custom branding, shipping rules, and so much more. ClickShip is here to grow with you as your business scales.
About Loop
Loop is a cross-border banking platform for Canadian-based businesses operating across Canada, the United States and around the world. Loop' consolidated multi-currency banking platform helps businesses save time and eliminate FX losses. Loop offers tailor made products including CAD/USD corporate cards, interest-free spending, corporate level purchasing power, no-fee global payments, accessible growth capital and real US dollar accounts to help online businesses grow.