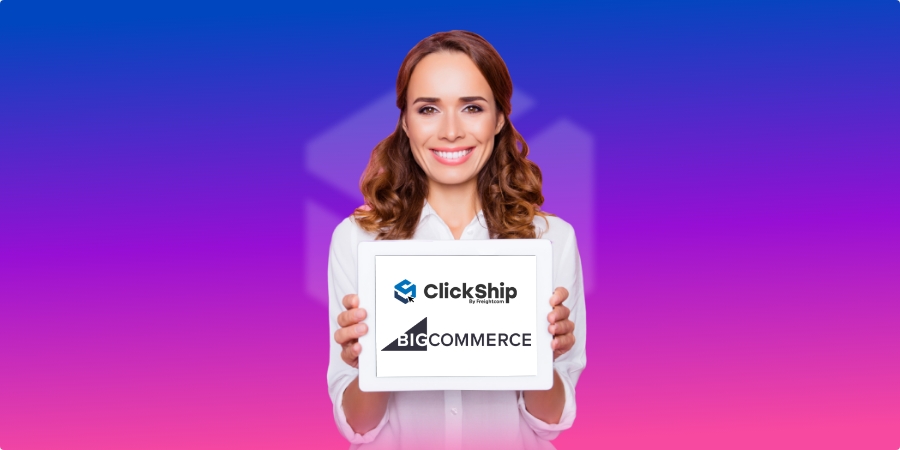 At ClickShip, we know our partners are a vital part to building a successful business. We provide exclusive shipping rates and quality services to our customers, which doesn't happen without partnering with the best carriers in the industry.
We offer shipping solutions tailored toward eCommerce retailers. Not only do we try to partner with the best for our shipping services, but we do the same for all our integrations as well.
Choosing partners for our business is never easy, but it comes down to a matter of mutual goals, vision, and values. This is why we are excited to announce our integration with BigCommerce.
What is BigCommerce?
Established in 2009, BigCommerce has helped thousands of eCommerce sellers build their online businesses and has assisted in establishing brands to be recognized in over 150 countries worldwide.
BigCommerce is a public eCommerce software company that provides SaaS (Software as a Service) on their eCommerce platform to allow business owners to set up an online store and sell their products on the web. In addition, BigCommerce provides unique marketing services and tools built into the platform that helps generate traction and lets companies differentiate within the industry.
BigCommerce allows business owners to generate an online store, customize it to their liking and then sell an unlimited number of products and services online. ClickShip offers courier and LTL (pallet) that can help streamline your shipping, offering better services to your customer.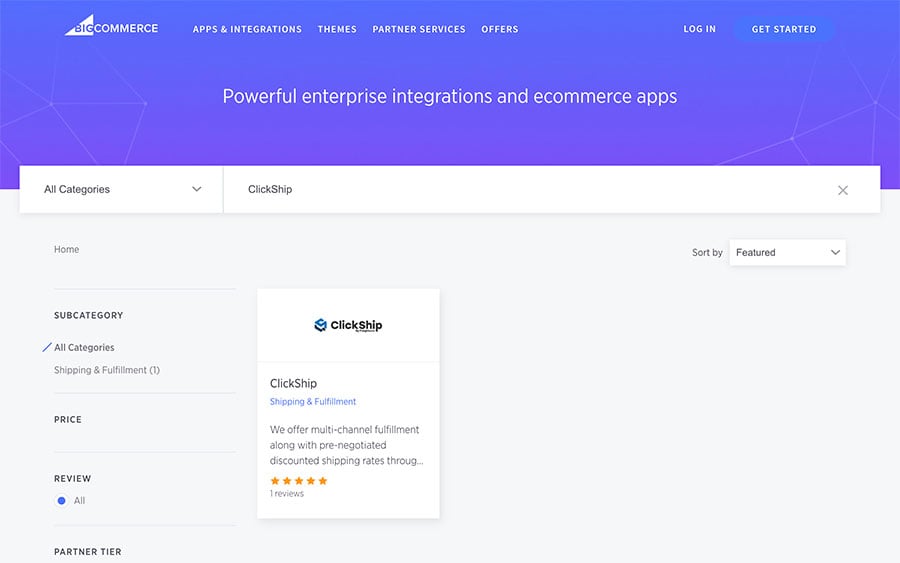 Where To Find ClickShip On BigCommerce Marketplace
What does Integration with BigCommerce Mean for ClickShip Customers?
As mentioned earlier, any good partnership is about both sides providing a value-add. For ClickShip customers considering a multichannel sales strategy, or simply deciding on a platform for a dedicated eCommerce storefront, BigCommerce may be the right option for you.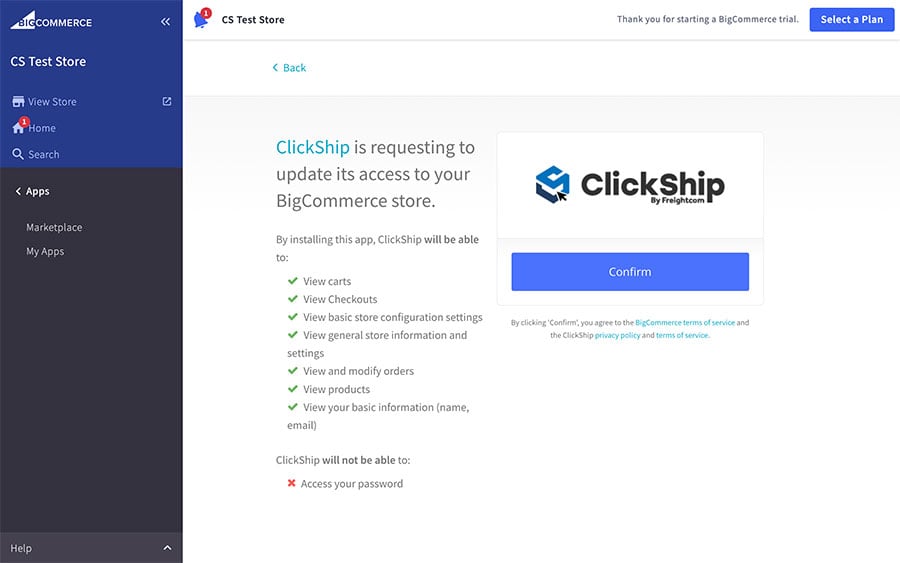 ClickShip Integration Requirements
BigCommerce offers its eCommerce users access to an all-in-one online store platform with features such as a built-in storefront and backend features to help integrate and manage your shipping process. As every business is unique, the BigCommerce platform offers its users logistical integrations to offer flexible solutions that suit the needs and growth of you, your store, and your customers at every stage.
One of the many big initiatives BigCommerce has been working on is educating B2B store owners to move their stores onto a trusted online platform. As a large B2B business, your customer base has moved online as they are seeking more personalized experiences, flexible payment options, and quick convenient deliveries when purchasing from your store.
What does integration with ClickShip Mean for BigCommerce Users?
Within the ClickShip platform, BigCommerce users can now access discounted rates on shipping within Canada, cross-border between Canada and the US, US to Canada, and internationally from Canada across the world, all from the most trusted carriers in the industry!
With ClickShip there is so much more than just great rates on shipping! We offer automatic order sync, smart packaging, and a pick list, which is part of the inventory management software that is embedded into the ClickShip platform.
Our new basic and advanced custom branding feature includes branded tracking pages, branded emails, and custom branding for different stores. BigCommerce users integrating with ClickShip will receive automatic real-time tracking updates on all shipments, custom branding on shipping labels, emails, and packing slips, and free residential pickups on courier orders.
We even provide post-shipping support for carrier interactions to keep you informed and updated on your shipments.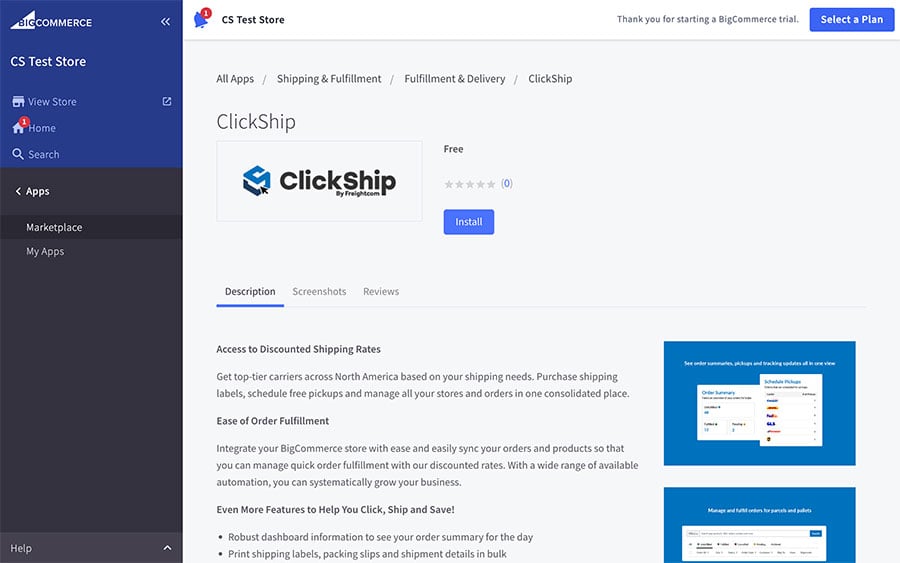 ClickShip Application Benefits
How to Integrate ClickShip into Your BigCommerce Store?
If you are currently a ClickShip customer, you already know how easy it is to integrate our platform into any of our partner sites and marketplaces. For BigCommerce users, it's simple, just follow these eight steps:
1. Visit the BigCommerce App Store
2. Search for ClickShip in the search bar or https://www.bigcommerce.com/apps/clickship/
3. Once on the ClickShip app page, click on Get This App
4. To install the app, it will ask whether you have an existing BigCommerce store or new to BigCommerce.
5. If you are an EXISTING BigCommerce user log in to your BigCommerce store and grant the required permissions to ClickShip.
OR
If you are NEW to BigCommerce you will have to create a BigCommerce account first.
6. Next login or create your ClickShip account.
7. Once you are logged into ClickShip, verify your account on the ClickShip landing page.
8. Then your BigCommerce store is automatically connected with your orders and products.

Once ClickShip's sync process is complete, all your BigCommerce order information will be automatically imported into the ClickShip platform, and you are ready to start shipping smarter!
BigCommerce Integration With ClickShip Tutorial
Ready to Take the Next Step?
If you're a BigCommerce user and have not yet integrated with ClickShip, there's never been a better time to start than today. Our all-in-one eCommerce shipping platform integrates seamlessly with BigCommerce and other platforms like Shopify, Wix, Etsy, Amazon, Walmart Marketplace, WooCommerce, Magento 2, Lightspeed, eBay, and Squarespace.
Start enhancing your BigCommerce shipping experience today!