At ClickShip we strive to do everything we can to provide eCommerce shipping solutions to our customers. We integrate with the leading eCommerce platforms and marketplaces to give you seamless access to our platform and offer unmatched shipping through our partner carriers.
Now in an industry first, we are excited to announce that ClickShip is offering an LTL at Checkout option to eCommerce Sellers who have integrated their storefronts on ClickShip.
What is LTL at Checkout?
To start, let's define LTL, also known as Freight.
LTL, or less-than-truckload, is a type of pallet shipping in which someone shipping six or fewer pallets can share a truck with other shippers, reducing the cost of shipping for everyone involved.
Utilizing LTL services allows businesses to ship large or bulk items B2B, B2C, and from residential addresses to businesses.
Using our Smart Packaging feature, ClickShip now has the ability to recognize whether or not your customers' orders would be suitable for LTL shipping, and display available rates for both LTL and parcel options.
All this happens in real time, directly at checkout!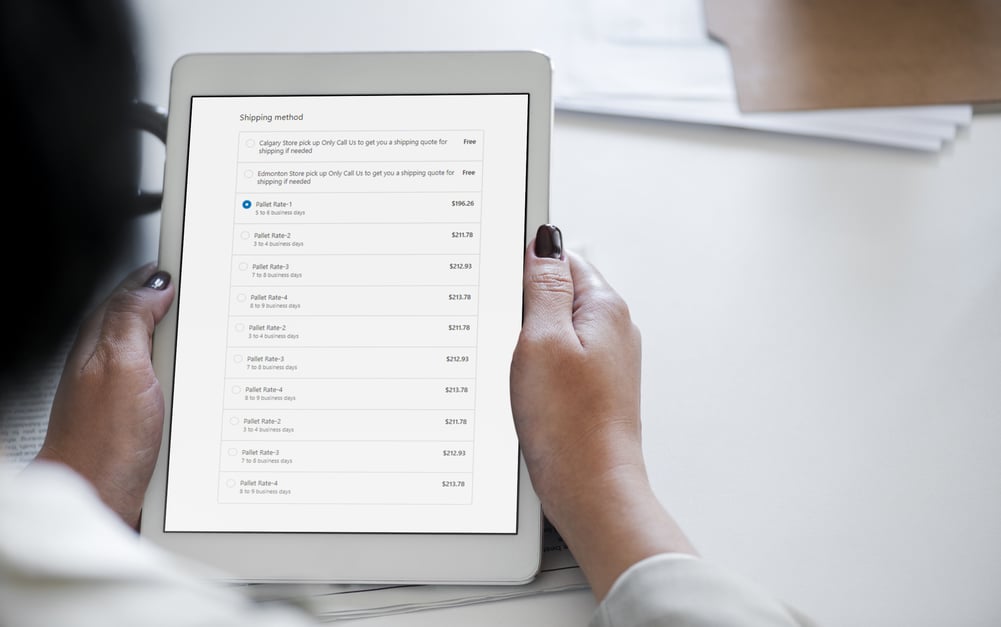 How Does It Work?
LTL at Checkout is an addition to ClickShip's Smart Packaging function. Veteran ClickShip users will know that with Smart Packaging you can link boxes to individual SKUs with specific package dimensions and weight, allowing for faster, more streamlined quotes at checkout.
With LTL at Checkout, we have taken this technology to a whole new level. Using the same Smart Packaging technology, ClickShip will allow you to add pallets to your presets. Using the weights and dimensions of ordered products, our algorithm will place the products on available pallets and determine whether or not LTL shipping is an option.
From there, just like always, your customer will get a selection of instant rates from several of our top partner carriers.
How is This Beneficial?
LTL at Checkout is more than just a fun new feature for ClickShip. Its benefits are far-reaching for a large number of ClickShip customers!


Better Shipping Options for Large or Bulk Products
Is it possible to ship large or bulk items using a parcel? Oftentimes, yes.
Does that mean it's the best option? Usually, no.
Because LTL shipments typically consist of product securely wrapped on pallets, the risk of damage or loss to your products while in transit decreases significantly.
Furthermore, due to the load capacity of pallets, bulk orders from your customers can be easily shipped in one go, as opposed to potentially requiring multiple parcel shipments for a single order.



More Affordable Shipping for You and your Customers
Parcel carriers have oversize and overweight surcharges to offset the lost revenue from needing to utilize more truck space for a single shipment. For large or bulk items, these surcharges are unavoidable.
In offering LTL at Checkout, you can offer your customers more appropriate, and cost-effective shipping options for these orders, helping reduce cart abandonment, and reducing the costs you may need to absorb.



Expand Your Service Offerings
For businesses looking to offer bigger-ticket items on their website or marketplace, our LTL at checkout option can streamline your checkout and offer even better service to your customers.
Using custom presets via Smart Packaging, you can assign additional services such as residential delivery, tailgate, and threshold delivery directly to the LTL option in ClickShip. These services can provide an immense value-add for your customers and allow you to add a wider range of products more confidently to your store or marketplace.

How Do I Set Up LTL at Checkout?
If you already have a ClickShip account, setup is only a phone call away! Your sales representative will help determine if LTL at Checkout is right for your business, and our Shipping Experts will handle the rest! From there, simply log into your ClickShip account and get started!
At this time, LTL at Checkout is available for Shopify, WooCommerce, and Magento2 users.
Click, Ship, and Save with More!
ClickShip's all-in-one platform is designed to offer the very best shipping solutions to eCommerce professionals. We integrate seamlessly with leading eCommerce platforms and marketplaces like Shopify, Walmart Marketplace, eBay, Etsy, WooCommerce, Magento2 and more to offer discounted shipping rates from the most trusted Canadian carriers.
Ready to offer the best shipping on your storefront or marketplace? Contact one of our shipping experts Monday to Friday, 9 am to 5 pm EST at 1-877-335-8740 or email us at customercare@clickship.com and see how ClickShip can supercharge your eCommerce shipping.