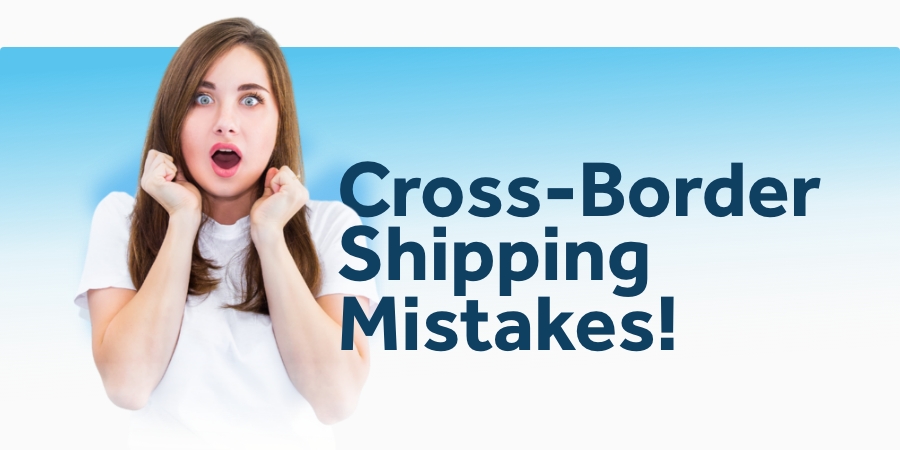 Growing and expanding your eCommerce business cross-border can be a make-or-break step. It is crucial to understand all the factors that go into shipping cross-border.
There are a lot of advantages that cross-border shipping provides an eCommerce business such as the ability to explore new markets, expand your target audience and increase product interest through multiple communication channels. Not only does it give you the ability to grow your customers, it also provides diversification of risk amidst changing economic climates and consumer demand.
It can be very easy to make cross-border shipping mistakes that can lead to an increase in expenses, shipping delays and unhappy customers. If these mistakes are not handled correctly your business can experience long-term growth problems and brand perception issues. Now let's explore our top tips for cross-border shipping.
Understand Cross-Border Shipping Regulations
When shipping merchandise cross- border, you will notice that different regulations are in place for cross-border deliveries. Keep in mind there are different procedures, taxes, forms, etc., that can add time and money to your shipping process. If you fail to follow regulations, your shipments can be delayed, returned, seized or marked for disposal by the customs agency.
That's why it is important to ensure your package fulfills the requirements for passing through the country's borders. Ensuring you have all the documentation filled out is essential as it reduces the likelihood of errors. Check to ensure you are permitted to ship your products cross-border as there are restrictions associated with certain products.
All countries' official government bodies that oversee border control will have guidelines for the import and export of goods readily available online. You can find Canada's and The US's regulatory guides here.
Get Shipping Insurance
When cross-border shipping you need to be prepared for uncertainties that come with the shipping process. Stolen merchandise, damaged shipments, accidents, piracy, natural disaster, etc., are all unfortunate events that are heightened due to the longer transit times and multiple touchpoints during transit. Furthermore, these issues can cause deliveries to be delayed Impacting your customers experience with your company.

Plan for Tariffs & Classifications
It is essential for your eCommerce business to investigate tariffs and classifications as your business can incur additional fees when shipping cross-border. Additional costs could come from products like food and tobacco, and many other types of merchandise. Failing to check the taxes for these individual items can lead to a very unexpected shipping charge which can eat away at the margin from the product that was sold.

Source: https://www.peacebridge.com/index.php/historical-traffic-statistics/yearly-volumes
Opt For Lower Rates
Looking for lower rates from a company that is not reliable can be risky. As you search for affordable rates you will want to ensure the company you are doing business with can offer responsive customer service and have the technology in place to monitor the shipment.
With proper technology in place your merchandise will be better monitored and tracked to reach the desired destination in its intended condition. Reading reviews left by customers can identify and indicate any red flags with companies you are planning to ship with. Pre-test shipments before busy seasons or launching your product to cross-border destinations to ensure the stability of the chosen carrier.

Package Your Merchandise Adequately
The packaging you utilize for your merchandise can impact your business in multiple ways. The way you package your shipping is important in both reducing the risk of damage, and the perception your customers have of your brand.
If you use a box that is too big, your customers may view your business as having too much waste as it requires more dunnage to protect the product inside. In addition, using a box that is unnecessarily large means that you are paying more for shipping.
Carrying a wide variety of packaging sizes allows you to reduce the cost of supplies, mitigate protentional damage of the product, reduce shipping costs, reduce return merchandise and show your customers an environmentally friendly unboxing experience. ClickShip's Smart Packaging Technology can select the right packaging for your merchandise in real-time.

Never Miscalculate Your Packages
When selling your merchandise, it is important to factor in the weight and dimensions of the product and package by measuring it properly. Measure your packages using the outside box measurements. Round up on both weight and dimensions to ensure accurate pricing. Be aware that each mode of transportation and each carrier has specific weight and dimension limits that when exceeded can lead to hefty charges.
Shipping carriers weigh the packages at their routing centers, to which they determine the "chargeable weight". This is done usually on the routing conveyor by digital measuring devices with a high degree of accuracy. If the weight or dimension that is entered to produce the shipping label is different then that of the chargeable weight, a chargeback will be issued for the shipment.
The best way to measure the exact product weight and dimensions is to do it before and after packaging.
Set Shipping Expectations with Customers
In many cases, shipping your products cross-border will simply take longer than shipping them domestically. With customer expectations for shipping at an all-time high, this has the potential to impact your customer experience negatively unless proper steps are taken to set customer expectations.
Having clear, upfront shipping information readily available on your online storefront can help to eliminate potential confusion. This can be reinforced by offering estimated shipping times directly at checkout and providing end-to-end real-time tracking on your shipments.
Ship Cross-Border with ClickShip
When you partner with ClickShip we can help your eCommerce business grow across the border. ClickShip can help to improve your brand, increase your global customer base and presence to keep you on top.
ClickShip has been exceeding the needs of our customers for over 3+ years as we continually strive to provide the best eCommerce shipping platform. We offer top-tier carriers at discounted rates straight through our many integrations or through standalone shipping features on our site.
Not a ClickShip Customer yet?