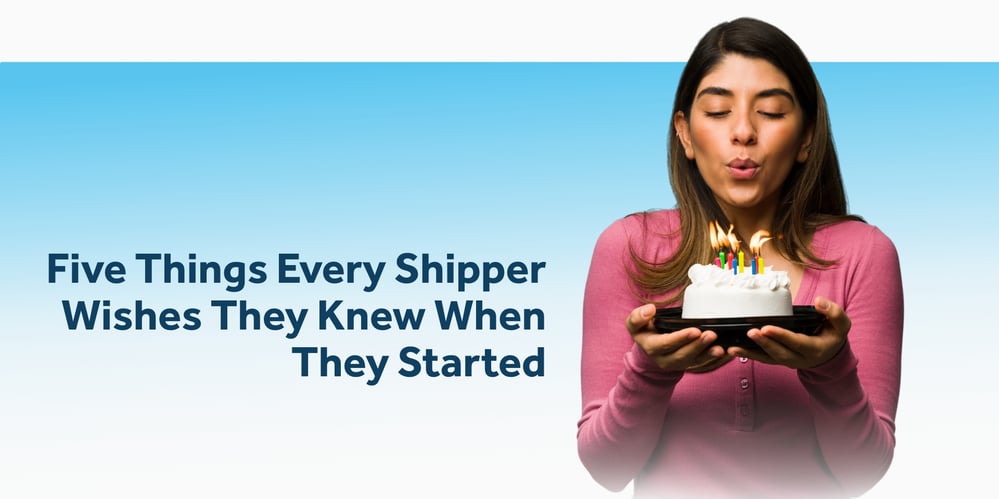 Starting a business is an exciting prospect. The feeling of seeing your company name on paper, of seeing your dream realized, is unlike anything else. For someone starting a business for the first time, it can be easy to be caught up in the initial excitement to the point of overlooking, or even outright neglecting some areas of one's overall business strategy.
A business' shipping strategy can often be one of these oversights, even years into a business' life. That's why this week on the ClickShip blog we're sharing some pointers to give your shipping strategy an edge.
1. Your Shipping Strategy IS Your Marketing Strategy
Marketing can be a difficult expense to justify for a new business and trying to navigate those waters can be difficult and time-consuming at the best of times. While letting the quality of your product sell itself can occasionally do the job at the start, a strong shipping strategy can oftentimes be an incredible marketing tool in its own right!
For instance, studies have shown that 22% of customers report a better customer experience on sites that are simply upfront with their shipping costs![1] In addition, tools such as offering free shipping have shown to increase a customer's average order value (AOV) by 7.32%![2]
In short, in the world of eCommerce a solid shipping strategy can make or break a brand, and a great shipping strategy can help your brand sell excel.
2. Packaging is Crucial
We discuss packaging fairly often on this blog, and for a good reason. No matter if your business is shipping multiple pallets several times a week or a handful of packages a day, proper packaging is the first and last step in a shipping journey, and the main line of defense your shipment has in making that journey safely.
While preparing a pallet is often as simple as keeping your goods packed flush and properly secured, preparing a package can often have many more variables. That said, neither should be taken lightly, and learning how and when to use the correct packaging techniques early in your entrepreneurial journey can help prevent costly mistakes that will affect your overhead, as well as impact the overall impression that customers may have of your brand.

3. Market Conditions can Change Everything
As seen in the last two years, even industries as globally established as shipping can be suddenly rocked by world events, and businesses must be nimble in order to pivot their strategies accordingly.
While we can certainly hope that we are past the worst point of sweeping global supply chain issues, smaller events such as the 2021 Suez Canal blockage, or even the more recent Chesapeake Bay blockage are proof that there are never any guarantees where shipping is concerned.
While one business owner can't control global, or even regional events that may affect their shipping strategy, one can be diligent in planning for contingencies. For instance, peak season can often be a huge pain point for a business' shipping strategy, but with the right planning it need not be any more than a minor inconvenience.

4. Not All Destinations are Created Equal
While the goods and methods by which we ship can vary, so too does the final destinations for those shipments. Similarly, as different goods and types of shipments require the correct accommodations, so too do the destinations.
While shipping packages to residential addresses or shipping pallets to industrial addresses may not require a second thought, most other shipments require some greater consideration. Residential pallet delivery, for instance, may require smaller trucks, liftgates, and possibly even white-glove delivery services. Limited access locations such as hospitals, airports, and even shopping malls all have stipulations that must be adhered to, and many businesses have appointment-based delivery schedules within which shippers must follow.
Simply put, not accounting for any of these considerations can result in failed deliveries, chargeback fees, and poor experiences for everyone involved. To avoid this, special care must be taken whenever booking a shipment to ensure that each and every destination is given the consideration it requires.
5. You Don't Need to Negotiate Your Own Rates
Negotiating shipping rates can be a daunting task for many new businesses and can oftentimes leave a business owner feeling discouraged. When push comes to shove many small businesses are unable to ship high enough volumes to negotiate competitive shipping rates with reliable pallet and parcel carriers, and the costs may be more than a business can effectively manage.
By utilizing an eCommerce shipping platform like ClickShip, a small business can gain a competitive edge, getting access to shipping services from trusted freight and parcel carriers at a fraction of the cost.
Give Your Business an Edge with ClickShip!
While the advice above can help turn you into an expert shipper, managing that shipping can still be a monumental task for a business of any size. Thankfully at ClickShip we're more than happy to help with that!
ClickShip is an all-in-one eCommerce shipping platform that offers discounted rates on LTL and parcel shipping directly at checkout from North America's leading carriers. Our easy-to-use platform integrates with the leading eCommerce platforms and online marketplaces to help manage your shipping across multiple channels, all for zero startup or monthly fees!
Contact one of our shipping experts Monday to Friday, 9am to 5pm EST at 1-877-335-8740 or by email at customercare@clickship.com and start your business off on the right foot.
---
[1] https://blog.shift4shop.com/why-a-free-shipping-threshold-gets-you-more-sales
[2] https://www.reddoor.biz/work/case-studies/nuface-finding-the-right-incentive-for-customers/