Attention BigCommerce users! We are thrilled to announce that ClickShip's Real-Time Rates at checkout are now available on your BigCommerce store!
So, what are Real-Time Rates? How do you set up this functionality on your BigCommerce store? And most importantly, how is this going to benefit your business? Let's find out!
What are Real-Time Shipping Rates?
ClickShip's Real-Time Rates use the product information that you upload from your BigCommerce store into ClickShip to provide accurate, real-time shipping rates from our carrier partners of your choice, directly on your BigCommerce store's checkout.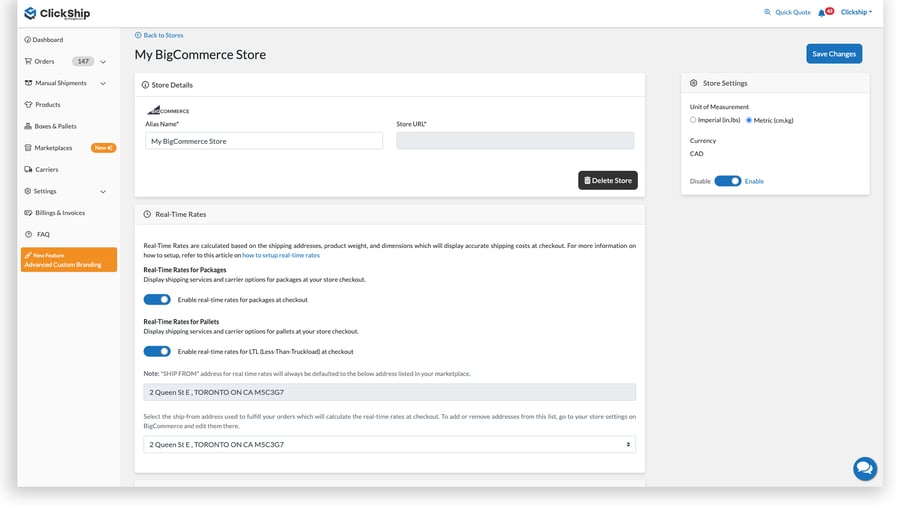 You can easily enable Real-Time Rates on your BigCommerce store right from the ClickShip dashboard!
What are the Benefits of Real-Time Rates?
Manually setting your shipping rates can be very time-consuming, especially with many orders coming through with different specifications. With ClickShip's Real-Time Rates at checkout we help you in the following ways:
Automatically Calculated Shipping Rates
Your customers will be able to see Real-Time Rates and select carriers at checkout. With ClickShip you have the following three options for Real-Time Rates at checkout:
Real-Time Rates for Package:

Real-Time Rates are calculated on individual packages at checkout.

Real-Time Rates for Pallet:

Real-Time Rates are calculated for products that require pallets at checkout.

Real-Time Rates for Single-SKU Products that Have Multiple Boxes:

Our One SKU Multi-Box feature is perfect if your single SKU requires more than one box during the shipping process.

Source: Statista
Enhanced Shipping Visibility
With Real-Time Rates at checkout, shipping costs are automatically displayed and will update instantly when changes are made. This reduces surprises for the customers during the checkout process and allows eCommerce businesses to better streamline their operations.
As a result, you get greater transparency and improved communication between you and your customers.
Reduced Cart Abandonment
Cart abandonment is one of the greatest pain points among eCommerce businesses, and high shipping costs are their leading cause. With Real-Time Rates your customers can feel confident that they are getting the best rates available at the time they plan to make their purchase.

Increased Customer Satisfaction & Loyalty
Ensuring that you offer a solid customer experience is the single most important goal for your eCommerce store. With Real-Time Rates at checkout, you are providing a level of transparency not only improves your overall customer experience but increase the chance of return business.
With ClickShip we work to improve your eCommerce shipping experiences. Let us start making your customer's deliveries more memorable.
How to Set Up Real-Time Rates
To install Real-Time Rates, you will first need to integrate your BigCommerce store with your ClickShip account. Learn more about integrating your ClickShip account with BigCommerce in our handy tutorial.
Are you ready to install Real-Time Rates in your BigCommerce store? Watch our BigCommerce Integration and Real-Time Rates video to install and enable it for your store!
New to ClickShip?
If you aren't familiar with ClickShip there truly has never been a better time to let us help you with your eCommerce shipping strategy!
Our easy-to-use, eCommerce platform helps you find the best Real-Time Rates on domestic, cross-border, and international parcel shipping, as well as domestic and cross-border LTL shipping. We partner with North America's top leading carriers to offer you the very best shipping services, all for zero upfront and monthly fees!
Contact one of our shipping experts today and let ClickShip help your business grow faster, ship smarter, and save more.
Haven't become a ClickShip customer yet?