We've spoken on multiple occasions on this blog about the fact that eCommerce is thriving, so much so that it no longer bears repeating. For as much as eCommerce has become so universal in the business world, rarely is the question of "why" asked in earnest.
The obvious, almost flippant answer is, of course, "because of the internet", but nothing in life is ever really that simple. Surely there is more nuance to be found, as long as one looks.
Well thankfully this week on the ClickShip blog we've done just that. Below are a few of the biggest reasons why eCommerce businesses are so successful.
Convenience + Cost = a Winning Formula
It seems self-evident that convenience would play a major role in the success of eCommerce businesses. One would be hard-pressed to find anyone who would willingly take the more difficult route in most things.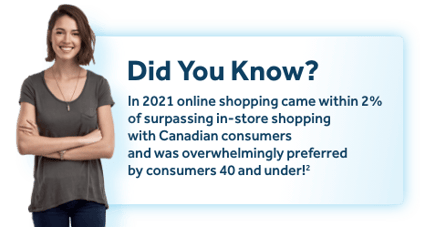 And while it's true that, according to a study by Statista, 57% of Canadian consumers listed convenience as a reason for opting to shop online, it's worth noting that 66% of those polled listed cost savings as a primary motive.[1]
Now, while one's gut reaction is to presume that convenience typically comes at a premium, there are several good reasons why an online retailer can offer prices that are competitive in comparison to a brick-and-mortar outfit.
Perhaps most notably, the absence of a physical storefront allows a business to maintain a much lower operating cost, which can then be translated directly into savings for the customer. Further, with services such as Amazon/FBA these operational costs can be mitigated even further by removing the need for a privately-owned or leased logistics centre altogether.
If a company is able to offer their customers an easier shopping experience for less, what more argument is there to be made?
A Bespoke Customer Experience
Unsurprisingly, people prefer feeling that their specific needs are being met. That said, there is an inherent challenge in offering a customer a unique shopping experience without in-person interaction. In recent years, however, it seems that the eCommerce world has found not one, but several ways to offer a tailored customer experience despite the inherent anonymity of the internet.
The rise of niche, direct-to-consumer brands is evidence of this. D2C brands have grown so much, in fact, in a survey conducted for DSA.ca, niche, direct-to-consumer businesses accounted for $4.15 billon CAD in annual sales in 2020[3].
A personalized customer experience certainly goes beyond the products or services a brand offers. Many eCommerce businesses have begun utilizing algorithmic personalization to provide customers with a unique shopping experience, recommending items based on prior shopping habits.
This AI-based system can boast an impressive ROI; according to Gartner, strong personalization can result in customers spending 48% more on their carts[4].
Further, we previously outlined in our unboxing blog how the packaging your business provides to your customer can be a powerful marketing tool that sets your business apart, and offers an experience that is unique to eCommerce shopping.

Hassle-Free Returns
Picture your worst experience trying to return an item to a physical store. Taking time out of your day to drive to a brick-and-mortar store, standing in line for who knows how long, only to find out that you're missing a receipt, or an instruction manual, or for some other reason you can't complete the return. You leave the store upset, preparing yourself to try again the next day.
Successful eCommerce businesses understand that, while returns are a necessary evil, a headache-inducing returns process isn't.
Offering free shipping on returns is a strategy that businesses have been implementing for years and is more and more becoming the industry standard for eCommerce. It isn't without reason, either; 62% of consumers in a study from Dotcom Distribution admitted to free returns being a deciding factor in their choice of online retailer[6].

ClickShip can Help Your eCommerce Business Thrive
It goes without saying that a solid shipping strategy can make or break an eCommerce business, and thankfully ClickShip is here to help with that!
ClickShip's all-in-one, multimode shipping platform gives you the power to offer real-time rates on LTL and parcel shipping directly at checkout, and the ability to choose from North America's leading carriers, all in one place, and all with zero startup or monthly fees!
Contact one of our shipping experts Monday to Friday, 9am to 5pm EST at 1-877-335-8740 or by email at customercare@ClickShip.com and see how ClickShip can help your business thrive!
---
[1] https://www.statista.com/statistics/444349/reasons-for-shopping-at-large-e-commerce-retailers-canada/
[2] https://www.statista.com/statistics/1230538/share-of-canadians-shopping-online-and-offline-on-a-daily-weekly-basis/
[3] https://www.dsa.ca/industry-statistics-and-research/
[4] https://www.ecommercetimes.com/story/how-to-reinvent-e-commerce-personalization-in-2019-85915.html
[5] https://www.newswire.ca/news-releases/forrester-s-canada-2021-customer-experience-index-nearly-90-of-brands-cx-quality-remained-stable-or-improved-during-the-pandemic-863394971.html
[6] https://www.mhlnews.com/technology-automation/article/22055220/consumers-are-changing-ecommerce-preferences