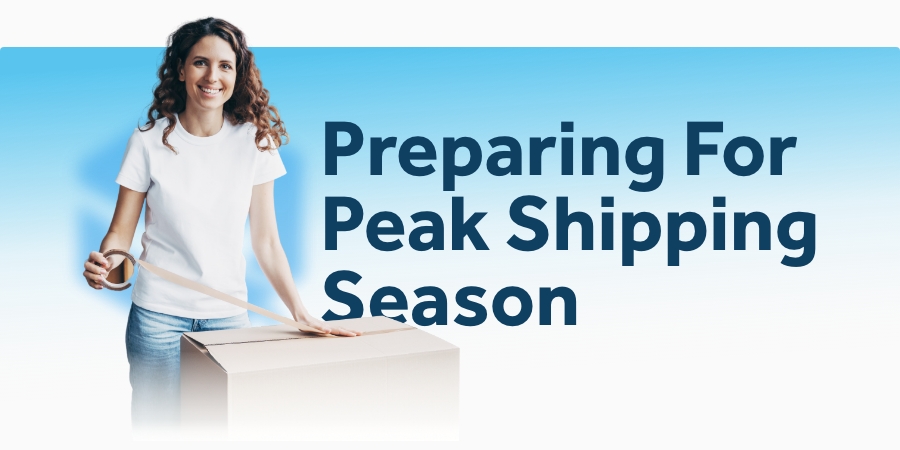 The change from Summer to Fall brings with it many things: the return of students to school, the shortening of days, and for shippers of all kinds the return of peak season. This annual, unavoidable shipping event can be a huge pain point for everyone across the supply chain, especially without the correct preparation.
At ClickShip, we know how stressful peak season can be, especially for newer shippers. We also know that peak season can be a make-or-break time for many businesses. With that in mind, this week on the blog we're going to be taking a close look at what peak season is, why it's so important, and what you can do to make sure that you can handle it with less stress.
What is Peak Season?
If you are new to the shipping world, peak season may be a new concept to you. Peak season is the period typically between early August and mid-December in which manufacturers are preparing themselves for every major event from back-to-school to the holiday shopping season. This attempt to prepare for the ongoing major retail and manufacturing push results in stress from one end of the supply chain to the other.
For eCommerce professionals, this can mean potential delays not only in receiving goods from manufacturers or suppliers, but also delays in shipping your goods to your customers.
Can Peak Season Affect Your Overhead?
The short answer is yes. Due to the sharp increase in demand during peak season, carriers are required to take steps to meet that demand, such as hiring more staff and commissioning more vehicles. To facilitate this, carriers will implement peak season surcharges on goods shipped during this time.


While these surcharges have the potential to affect your overhead, there are certainly steps that can be taken to reduce this impact. For instance, ensuring that you are using proper techniques when packing a box or preparing a pallet can help you avoid costly oversize and overweight fees on your shipments.

How To Prepare For the Peak Shipping Season
Much of ensuring a successful peak season comes down to planning, so much so that many businesses begin to plan for the upcoming peak season immediately following the end of the last one. While this isn't the first time we've covered peak season here on the ClickShip blog, and even if this isn't your first peak season, here is some helpful advice to help you through the months ahead.
1. Plan Ahead
Don't start making changes too late. Start making them earlier, so there are no last-minute changes that can have long-term impacts on your business. When peak season arrives you should have a plan in place to prepare employees on what they can expect to achieve success. Comparing the previous peak season and looking at what went well and what needs to be improved upon can help you to plan better to address future problems.
In addition, understanding the demand, and where the demand comes from, both geographically and from a product standpoint, can help plan which carriers you will be using and ensure you secure supply from your network. Asking your employees for their input can provide valuable insight that demand planning initiatives simply will not show. Employees are in the everyday operations, and they will be able to pitch unique ideas that can help you solve workflow challenges and reduce future problems from occurring.
2. Keep your Customers Informed
It is essential to communicate with your customers and notify them about when they can expect their order(s) to arrive. This is best communicated before the final purchase decision. If you are unsure about shipping deadlines, always do your research on carriers and find out when their peak season shipping deadlines are (at ClickShip we will be posting a Peak Shipping Surcharge Guide in the coming month).
To further help your customer's experience, prioritizing orders based on when they were received, availability of stock, historical demand from customers, and the type of product ordered, can ensure you are prioritizing the right way. Peak season is a busy time for everyone, so don't always expect your shipments to arrive on time or be delivered smoothly – this expectation can be set on your eCommerce store or other communication avenues with your customer. Many eCommerce stores add additional shipping time during the checkout process to ensure this expectation is set with the customer.

3. Learn From Prior Peak Seasons
When preparing your shipping strategy for peak season, looking to the past is the best way to plan for the future. Analyzing your previous years' sales data, especially the data during prior peak seasons, will help you choose which products in your inventory to prioritize over others.
Further, it is very useful to collect information from employees and your customers as they can provide great insights that you never considered before. Customer surveys, social media, phone calls, etc. are all great ways to gain valuable input and feedback to improve future operations.
4. Knowing Your Data = Better Decisions
Information such as inventory levels, SKU-level information, order history, pricing and other supply chain details are all essential data that you should have a clear understanding of. This will also aid in preparing for the peak shipping season. The information you have gathered will be essential in ensuring you have enough product on hand to meet customers' demands and deadlines.
If there are supply chain shortages, it will also give you the ability to procure substitute products that can fill the void during this busy season. Setting up pre-order workflows and discounts for products that are delivered after peak season is over, can also help during this busy time. Integration into ClickShip will help provide you with real-time data and information on many data points that revolve around the shipping process.

Source: fcbco.com
5. Review Your Return Policy
Peak season can also influence your reverse logistics, as well. To avoid any problems during busy season, ensure you write clear and easy to understand return policies for your business. Special return policies can be created for peak season to ensure your returns do not interfere with your sales.
Having a smooth return process can make processing returns easier, reducing the delay in refunding customers and restocking the products for sale. Training and educating your customer service team to ensure they are all on the same page is essential in having a quick return process for your business. Click to learn more about What Makes A Good Return Policy & How To Write One.
6. Partner With Reliable Carriers
It is critical that during peak season you partner with the right carrier providers that have both local, national and international coverage to meet your needs during this time. It is essential that you have access to top-tiered trusted carriers during this time to support your peak demand.
By integrating with ClickShip, you get access to our trusted carrier network with integration directly into your eCommerce store. Deliver the most accurate rates and services to your customer by enabling real-time rates at checkout on ClickShip.

7. Technology Advancement Improves Processes
Technology is rapidly evolving, and it is important to have a digital marketing strategy in place, especially during peak season to increase online presence and sales. Developing a social media presence is a great way to expand your customer base and avoid missing out on potential sales opportunities.
Crafting a website that is appealing, mobile-friendly, educational, and optimized for SEO is an ideal way to help handle the peak season traffic. Connecting with newly acquired customers during this time can also add to reviews, testimonials, and influencer-based marketing initiatives.
Let ClickShip Manage Your Peak Season Deliveries
At ClickShip, we know how you can better prepare your business for the peak season rush. We know that shipping can become overwhelming for any business, regardless of its size. Thankfully at ClickShip we are more than happy to help!
ClickShip's all-in-one eCommerce shipping platform offers discounted rates on parcel and pallet (LTL) shipping directly at checkout from North America's leading carriers. Our easy-to-use platform integrates with the leading eCommerce platforms and online marketplaces to help manage your shipping across multiple channels, all for zero startup or monthly fees.
Need A Hand With Your Peak Season Deliveries?