At ClickShip our platform can do a lot of things to help make your shipping easier. From offering real-time rates at checkout, custom labels and invoices, to making fulfillment easier with our Smart Packaging technology, we give your business an edge on some of the most important parts of the eCommerce shipping journey.
That doesn't mean we can automate everything that needs to be considered when shipping a package. At the end of the day, an improperly packed box can make for a poor shipping experience, no matter how well-oiled the rest of the process is.
Sadly, the ClickShip platform can't help you properly pack your boxes, but on the ClickShip blog we can definitely offer some advice to make sure you know how.

The Right Box for the Job
Before you start properly packing a box, you need to make sure you're using the right box.
New, corrugated cardboard boxes are the way to go for shipping. Older or used boxes often have weak points that can affect their structural integrity.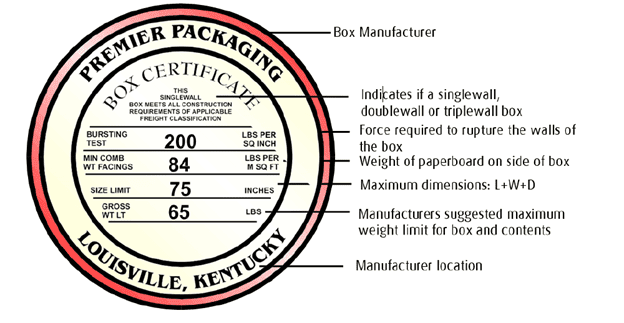 When selecting boxes, look for a stamp similar to the one shown. These certificates provide plenty of information to ensure you're using the best boxes for your shipment (Source: theupsstore.ca)
The size of the box also plays a key role in keeping your shipment safe. If the box is too small, there is an increased risk of the box tearing, and there may be no room for protective material.
A larger box is only better to a point. Using a box that is too large will not only result in a higher than necessary shipping fee but having excess space in the box's interior can make the box easier to crush or cause your products to move enough during transit to cause damage.
It is often possible to buy standard-sized boxes in bulk at a lower cost and cut them down at the corners to better suit nonstandard-sized products you plan on shipping.
Stay Safe with the Right Stuffing
So now that you have your crisp, new box that is neither too big nor too small for your products, what else do you need to keep those products safe? The answer is dunnage.
Simply put, dunnage is the blanket term for any sort of material used to keep product secure inside a box. This can come in the form of packing paper, soft foam, packing peanuts, and bubble wrap, just to name a few. Every type of dunnage has its own pros and cons, depending on what exactly you are shipping.
Packing Paper
Packing paper is the most cost-effective and easily obtainable form of dunnage available. While it is a versatile and eco-friendly option, it can collapse under the stress of transit, and is not the most effective option, especially for heavy or fragile items such as glass or electronics.
Soft Foam
Soft foam inserts are typically cut-to-fit sheets of foam. Most commonly, foam sheets are used for padding when shipping electronics or similar fragile or sensitive times, or products with sharp edges or pieces. While foam sheets are ideal in these specific circumstances, they are largely ineffective when the packing boxes have too much space.
Packing Peanuts
While typically made from Styrofoam, packing peanuts are also available in a biodegradable option, making them another eco-friendly dunnage option. Their small size makes them ideal for filling small or awkward spaces. Due to their lightweight nature, however, they can often shift during transit, causing heavy items to sink or move.
Bubble Wrap
Bubble wrap is the gold standard for impact protection when shipping fragile goods. Because it is lightweight and flexible it can be wrapped around a variety of objects, and it is both easily reusable and available in recyclable material. The one weak point is that it can become ineffective if punctured, meaning it is not ideal for shipping items with sharp components.
Seal the Deal
While your options for dunnage are more robust than you might have expected, when it comes to sealing your box, the choice is cut-and-dry.
Packing tape, or shipping tape, has its name for a reason. Like duct tape or painter's tape, packing tape is designed for a specific purpose. Packing tape is designed with a higher tensile strength, at least 20 lbs.
Tape should be applied along the centre seams on the top and bottom of the box, with at least two inches of overhang on either end.
Last, but certainly not least, are your shipping labels.
Depending on what you are shipping and how you are shipping it, there can be several key pieces of paperwork that are required to be visible on the outside of your package, such as a shipping invoice, customs invoice, special handling labels, and more.
You're Ready to Ship!
With all said and done, your boxes should be ready to ship! Let's double check and make sure you followed the above steps:
Box: Large enough to fit products and dunnage, small enough to keep products stable in transit.
Dunnage: Appropriate materials used for size/weight/product type.
Promotional: Add promotional material including discounts for future orders.
Tape: High tensile strength packing tape used to seal the top and bottom of the box.
Labels and Documentation: Clear and visible on the box exterior
Now that your box is ready to ship, there's really nothing left to do but to ship it!
That's where ClickShip comes in.
Our multimodal platform can help you with every step of the shipping journey, whether it's for a box, an envelope, or even pallets! We integrate directly into leading eCommerce platforms and online marketplaces to offer discounted rates from the industry's leading carriers right at checkout!
Ready to ship better? Contact one of our shipping experts from Monday to Friday 9am to 5pm EST at 1-877-335-8740 or email us at customercare@clickship.com and see how ClickShip is the right choice for your business.
---
[1] https://en.wikipedia.org/wiki/Cardboard_box