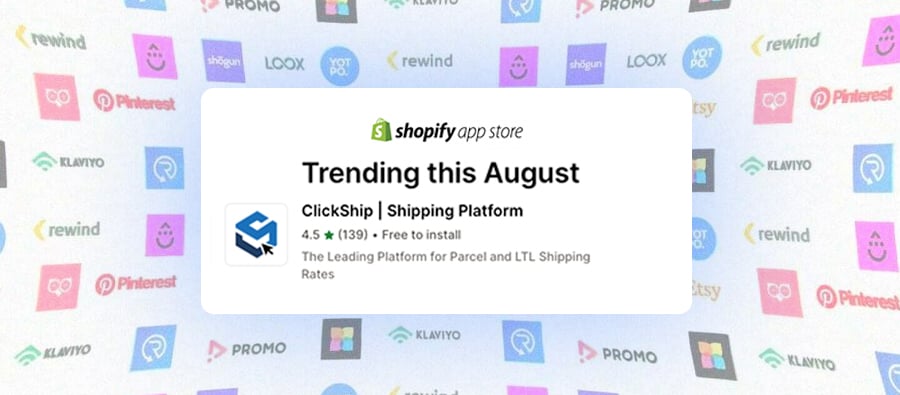 Longtime ClickShip users already know that, above all else, we strive to not only be a great shipping and fulfillment platform for eCommerce professionals, but that we strive to be the best.
With that in mind, we are absolutely thrilled to announce that ClickShip was just listed as one of the top trending apps in the Shopify store in August!
Our deepest gratitude goes out to each and every one of you who has made ClickShip a part of your eCommerce journey.
Your trust and support have propelled us to this remarkable milestone, and we are excited to continue to push what is possible and help business owners across the eCommerce space thrive.
If you're a Shopify merchant who has never tried ClickShip before, or an eCommerce professional considering building a storefront on Shopify, below are just a handful of the many reasons why ClickShip is, indisputably, the leading shipping and fulfillment platform for Shopify users.
Real-Time Rates at Checkout
Your Shopify store's checkout is arguably the most crucial part of the customer experience and can all-too-often be where potential customers choose to abandon their carts.
Usually, this is due to surprise shipping fees.
Shopify store owners who integrate with ClickShip can enable real-time, discounted shipping rates from North America's most trusted carriers right at checkout.
This means that not only are your customers getting the most accurate shipping rates at the time of purchase, but they're getting a great deal on them as well.
This, in turn, increases conversions, builds confidence in your brand, and helps your business grow faster.
Custom Branding
Your brand's identity is your most valuable asset.
ClickShip empowers you to maintain a consistent brand image by offering easy-to-use custom branding that stretches across the entire shipping journey, from invoices, to shipping labels, emails, and more.
This personal touch reinforces brand recognition, making every unboxing experience memorable and reinforcing customer loyalty.
Smart Packaging Solution
For any eCommerce business, speed and accuracy are paramount.
ClickShip's smart packaging solution streamlines your fulfillment process, providing automated packaging presets that ensure your products are shipped in the most efficient way possible, with more accurate shipping rates when you book.
Experience faster, more cost-effective fulfillment, giving you a competitive edge in the market.
Custom Shipping Tags
Managing inventory and orders has never been easier.
ClickShip's user-friendly platform allows you to efficiently oversee your inventory and orders, simplifying the often-complex logistics of eCommerce.
Our custom shipping tags feature enables you to categorize your shipments effortlessly, giving you more time to focus on growing your business, and ensuring that every order you fulfill is handled with the level of care and attention to detail that your customers deserve.
OnePrint Bulk Label Printing
In business, the only thing that's more difficult to save than money is time.
With ClickShip's OnePrint bulk label printing functionality, however, you can do both with ease.
Simply install the OnePrint plugin, and in no time you can start saving up to 60 seconds in processing time on every order you fulfill. More time saved means more orders fulfilled, and ultimately more revenue for your business.
Join the Trend and Integrate Your Shopify Store with ClickShip Today
It is once again with complete sincerity that we here at ClickShip would like to thank every one of you for helping our platform shine on Shopify, and hopefully helping even more eCommerce professionals just like you!
If you're still not integrated with ClickShip, don't just take our word for it: get in touch with one of our Shipping Experts today, and find out what makes ClickShip the platform of choice for so many Shopify users.