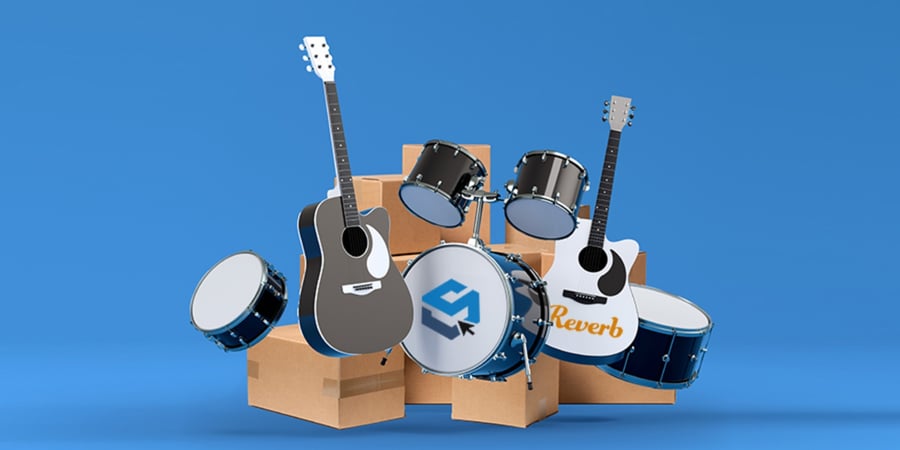 Reverb is the largest dedicated eCommerce marketplace for buying and selling new, used, and even vintage musical gear.
As any musician and vendor can tell you, shipping instruments and gear can be costly and precarious at the best of times.
For Reverb merchants, the most complete eCommerce shipping and fulfillment solution is now at your fingertips.
ClickShip is proud to announce that Reverb now seamlessly integrates with the ClickShip platform!
What does this mean for Reverb merchants? How about ClickShip customers who don't yet use Reverb? Let's take a look.
What Does Integration with Reverb Mean for ClickShip Customers?
Since its founding in 2013, Reverb has grown from its roots as an online marketplace for the Chicago Music Exchange into a global brand, with offices across North America, Europe, and Japan, and a user base of over 10 million monthly visitors.
For ClickShip customers who sell musical instruments, Reverb provides a dedicated and secure marketplace that offers seamless inventory management, multiple payment options for buyers, and seamless currency conversion for sellers.
In short, Reverb can expand your reach and offer you seamless integration across multiple sales channels.
What Does Integration with ClickShip Mean for Reverb Merchants?
Shipping can be a major pain point for any business, and shipping musical gear and instruments, can lead to plenty of issues that other businesses may not need to consider.
To start, ClickShip partners with only the most trusted carriers in the industry to offer discounted real-time rates on parcel and pallet shipping services, so whether you're shipping boxes of picks or pallets of full-stack cabs, you know you're getting the best rates available whenever you book.
ClickShip also offers you a suite of tools to help speed up your fulfillment process.
Shipping a drum kit in multiple boxes? Our OneSKU, Multi-Box functionality helps you offer better rates by quoting for the whole kit, not each tom, snare, and cymbal.
Want to make sure your storefront stands out among the thousands of other Reverb sellers? Our easy-to-use custom branding tools put your unique brand on every major touchpoint, from invoices and shipping labels to emails and tracking pages, so your customers know where to go when they inevitably need a new effects pedal.
Best of all, ClickShip is completely free to use! You simply pay for what you ship and watch your Reverb marketplace grow!
How to Integrate ClickShip into Your Reverb Marketplace Store
To integrate your Reverb Marketplace store with ClickShip, it's important that you have a ClickShip account. If you do not have a ClickShip account, please visit www.clickship.com and signup today! From there, integrating into your Reverb Marketplace store is as easy as following these steps:
Log in to your Reverb account and navigate to your dashboard.
Click on the profile icon and select "My Profile" under your Account settings.
On the "My Profile" page, go to the "API & Integrations" tab.
Under the "Personal Access Tokens" section, select the checkboxes for OAuth access except for guest, then click the "Generate New Token"
Provide a name for your token and select all the checkbox options from the OAuth Scopes list, then click "Generate Token."
Log into ClickShip and go to the "Marketplaces" page and click on Reverb.
This will initiate a popup allowing you to integrate your store. Copy the generated token and paste it in the field below.
Click "Connect to Store" and watch as your orders and products automatically start syncing into your ClickShip account.
We recommend that you ensure that your products' weight and dimensions be updated after import for a faster fulfillment process down the line. From there you're ready to offer a better shipping experience to your Reverb Marketplace customers!
Ready to Take the Next Step?
If you aren't currently a ClickShip customer, the time to seize a better eCommerce shipping experience is now!
Our all-in-one eCommerce shipping platform integrates seamlessly with the Reverb Marketplace, as well as platforms and marketplaces like Shopify, Wix, Etsy, Amazon, Wal-Mart Marketplace, WooCommerce, Magento, Best Buy and more!
For more information about how ClickShip can help, call our Shipping Experts, and enhance your eCommerce shipping today!