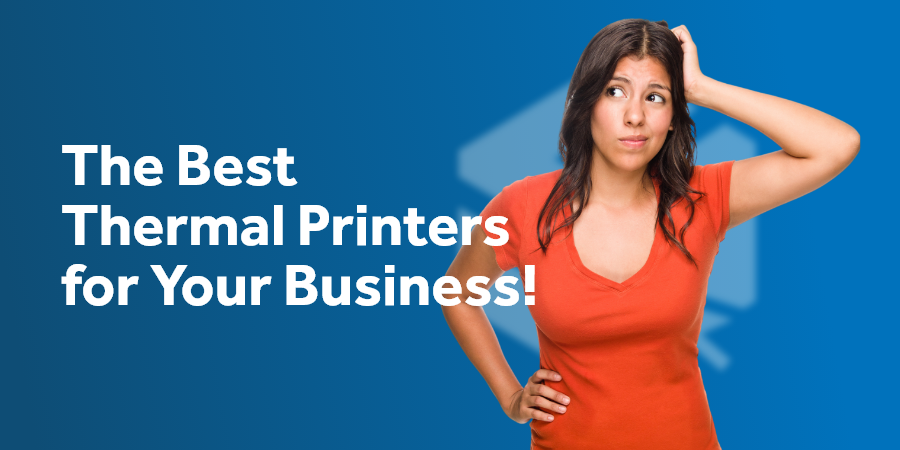 When managing your eCommerce business, the printer you are using to print shipping labels can seem like an afterthought.
However, different thermal labels have different advantages!
In the world of eCommerce, efficiency and accuracy are incredibly important, and a high-quality thermal label printer can be an essential tool, especially when it comes to sending out multiple packages.
Don't have the time to do the research and make the most informed decision regarding which printer is right for your business?
Luckily for you, the ClickShip team has done the research, so you don't have to!
What is a Thermal Printer?
Unlike inkjet printers, a thermal printer uses thermal heat to produce text or images on a medium.
The heat from the printhead activates a special chemically treated paper (aka. thermal paper) to transfer ink from a ribbon and bond it to the medium.
Thermal Label printers are most often used for printing labels, barcodes, and receipts, and are often used across a wide array of different industries, such as:
Manufacturing:

Print labels for compliance, maintenance, or parts to manage quality and progress measurements, etc.

Healthcare:

Patient wristbands, pharmacy sample labels, etc.

Retail and Hospitality

: Price tags, POS receipts, ID badges, etc.

Government:

Supply chain labels, ID badges, etc.

Logistics & Transportation:

Shipping labels, return labels, packing slips, receiving, etc.
What do We Think are the Best Thermal Label Printers?
Below are just a few of the many thermal printers currently on the market. While all of them have strengths and weaknesses, we're confident that any of them could be a useful tool for your business.
1. Brother QL-600
For eCommerce professionals who may be in the earlier stages of their business growth, the Brother QL600 may be the right printer to help get your business up and running.
Clocking in at 5" x 8.7" x 6" and 4.4 pounds, The QL600's compact size and weight make it easy to fit in even the smallest office space, and its 300dpi resolution and print speed of up to 71mm/s means that when the time comes to fulfill your orders you can get reliably high-quality shipping labels relatively quickly.
Bearing that in mind, you can expect that, as your business grows, it may outgrow the QL600 rather quickly. The lack of wireless connectivity may quickly become inconvenient, the strictly black-and-white print setting may prove limiting if you plan on making the most of custom branding, and some users report minor overheating after extended periods of use.
Bottom Line: If you're in the market for a printer to get your business off the ground without a huge investment, this is for you.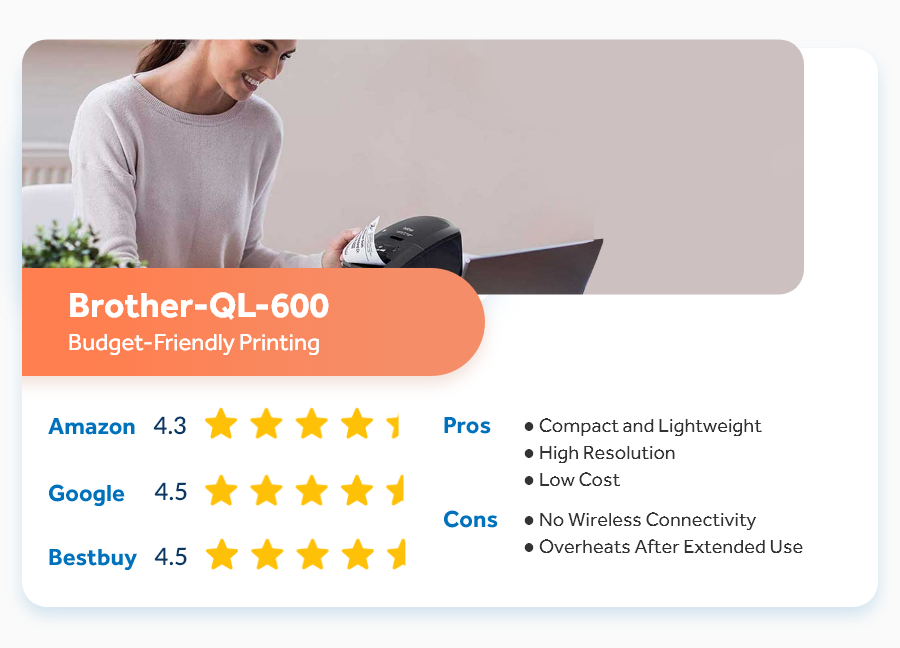 2. Brother ColAura Photo and Label Printer
If there is one consistent drawback to most thermal printers, it's the lack of colour printing capabilities.
If you're looking for a chance to really let your labels stand out, the Brother ColAura could be the answer.
At 4.5' x 4.6" x 3.8" and 1.45 pounds, the QL600's colour-capable cousin is more compact across the board, and with wireless functionality and compatibility with Windows, Mac, iOS, and Android, the ColAura takes a big step up in versatility, as well.
With this convenience, of course, comes a cost. While the upfront cost of the printer itself is in the same general price range as many black and white thermal printers, replacement cartridges for the ColAura are substantially more expensive than most thermal printers' monochrome counterparts.
Further, at only 8 mm/s the ColAura also has a slower print speed than most black and white thermal printers, making it less than ideal for more mundane day-to-day use.
Bottom Line: If you want to make a bold statement with your brand, give this a try.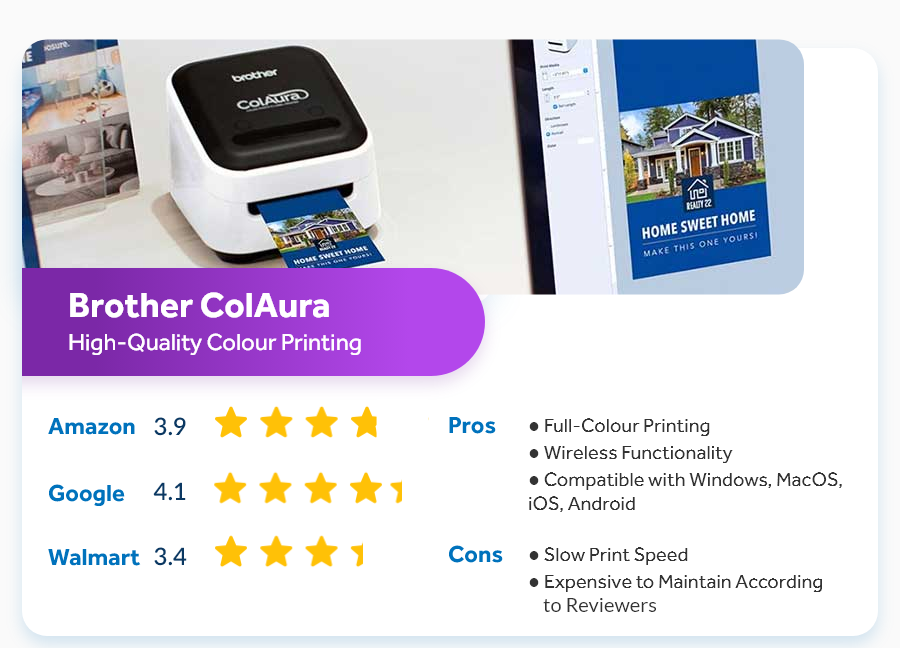 3. Zebra GX420d
If your business is at the point where you're printing dozens, or even hundreds of labels daily, the Zebra GX420d could be the workhorse label printer that you need.
The GX420d is the heftiest printer on our list, sizing up at 12.95" x 9.13" x 8.07" and weighing in at 5.7 pounds. It also has the power to match its size, with print speeds of up to 127 mm/s.
Despite this, the GXD420d may not be for every business.
While it is not only the largest printer on this list, it also comes with the largest average price tag, and while it is able to print blindingly fast, its resolution maxes out at 203 dpi.
Further, the GXD420d is only compatible with Windows, so if your day-to-day shipping operations are running on anything else, you'll be out of luck.
Bottom Line: For businesses on the "medium" end of the SMB spectrum, this fast, reliable printer can handle your high-volume shipping needs handily.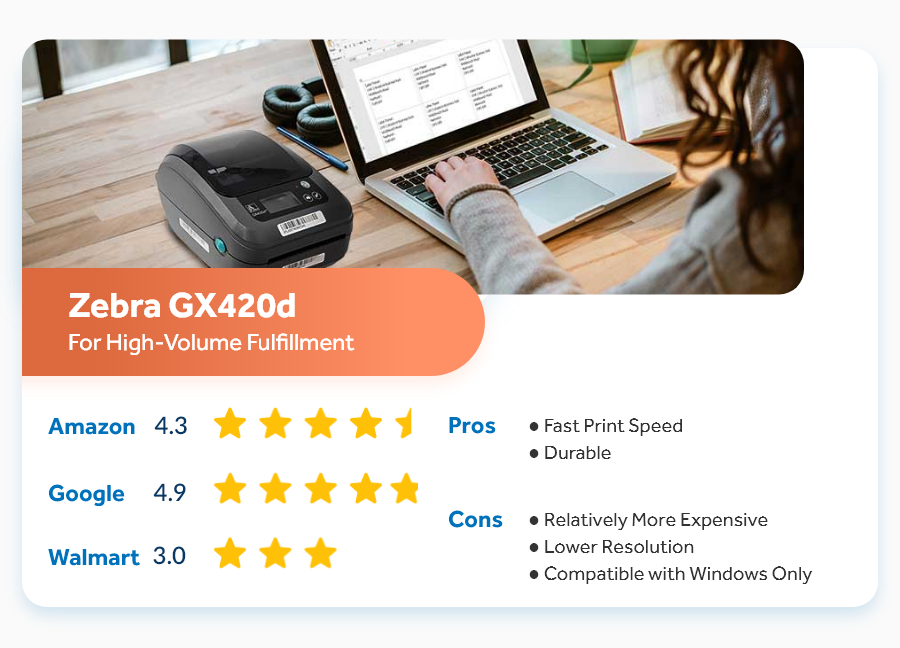 4. DYMO LabelWriter 4XL
For a thermal printer that threads the needles of size, cost, and ease of use, it's hard not to recommend the DYMO LabelWriter 4XL.
The LabelWriter 4XL sizes up just slightly larger than the Brother printers at 5.5" x 7.8" x 7.3", and 1.82 pounds.
It offers crisp black and white prints at 300 dpi resolution, with a comparable print speed to the Zebra, clocking in at 127 mm/s.
While the LabelWriter 4XL's drawbacks may be minor to some, they could be a non-starter for others.
To start, the 4XL uses DYMO's proprietary labels exclusively, making it slightly inconvenient when it comes time to replace empty rolls.
Further, despite being compatible with both Windows and Mac OS, the 4XL doesn't offer support for iOS or Android. That, combined with its lack of wireless connectivity make the 4XL less than ideal for shippers who handle most of their business' shipping and fulfillment on a tablet.
Bottom Line: Great bang for your buck, provided you can look past the compatibility limitations.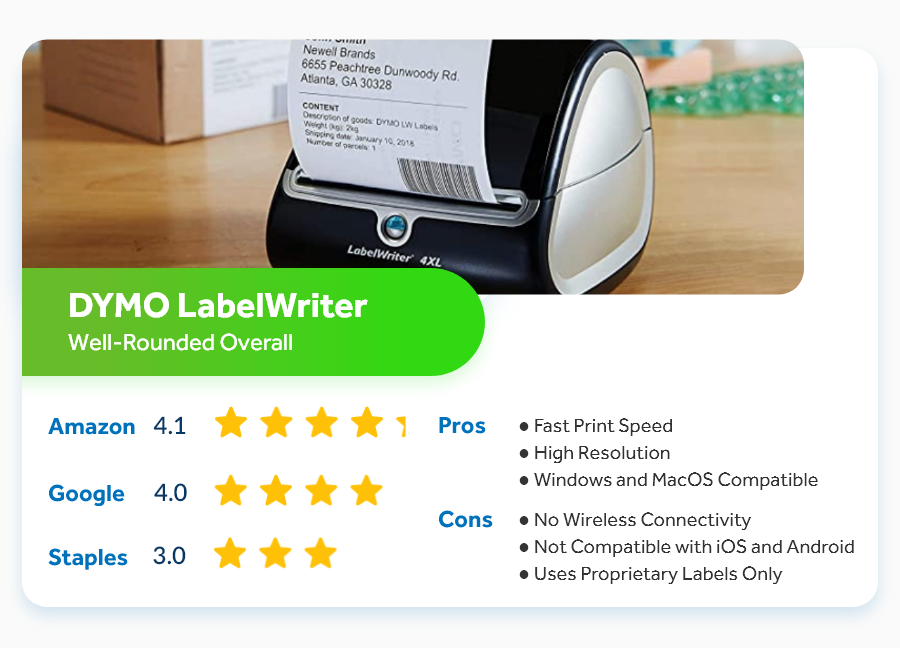 5. L+H2 560 Thermal Label Printer
At ClickShip we call ourselves shipping experts for a reason, so when we have a preferred thermal printer at the office, you can be sure it's for good reason.
The L+H2 560 handily ticks all the boxes a small business owner looks for in a thermal label printer. Sizing up at 9.25" x 7.05" x 6.57" and weighing 4.23 pounds, the 560 is compact without feeling fragile. This printer is fast and easy to set up on either Windows or MacOS, with plug and play functionality on Windows making it that much faster to set up and get printing.
As the most cost-effective printer on our list, one may assume that there would be a trade-off on quality, however with a 300dpi print resolution and speeds of up to 150mm/s, it easily stands toe-to-toe with its competitors.
Like other printers on this list, the 560 is lacking in wireless connectivity and compatibility with mobile device OSs. While it's possible that this could be a deal-breaker for some, the comparatively lower price point of the 560 vs the other printers on this list makes this feel like a more manageable concession.
Bottom Line: All the power and functionality with a fraction of the price: what more needs to be said? This printer gets our seal of approval.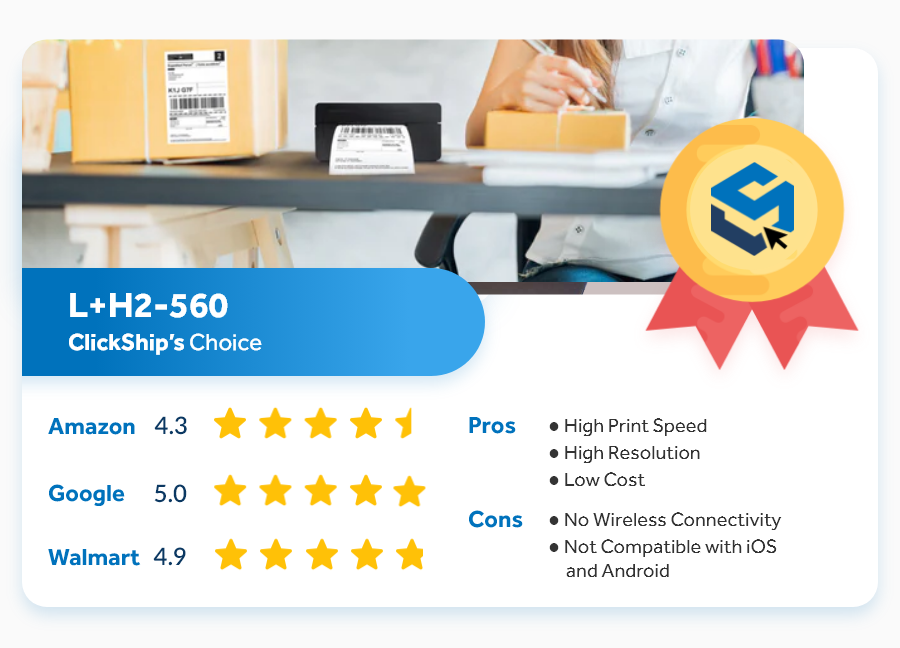 Print Labels with ClickShip & Save on Shipping!
Now that you have a better idea of which thermal label printer is the best for your business, it's time to put it to good use fulfilling orders from your storefronts and marketplaces, and ClickShip can help make that process faster, easier, and more affordable.
Our easy-to-use, all-in-one platform integrates with the leading eCommerce stores and online marketplaces to offer discounted rates on pallet and parcel shipping right at checkout.
With additional features like custom branding, document management, and a suite of fulfillment tools to make your day-to-day operations easier, ClickShip is the ultimate shipping tool for growing eCommerce businesses.
Best of all, there are no upfront or monthly fees, simply sign up for your free account and optimize your shipping process!
Tired of paying too much for shipping? ClickShip saves businesses time and money on shipping.