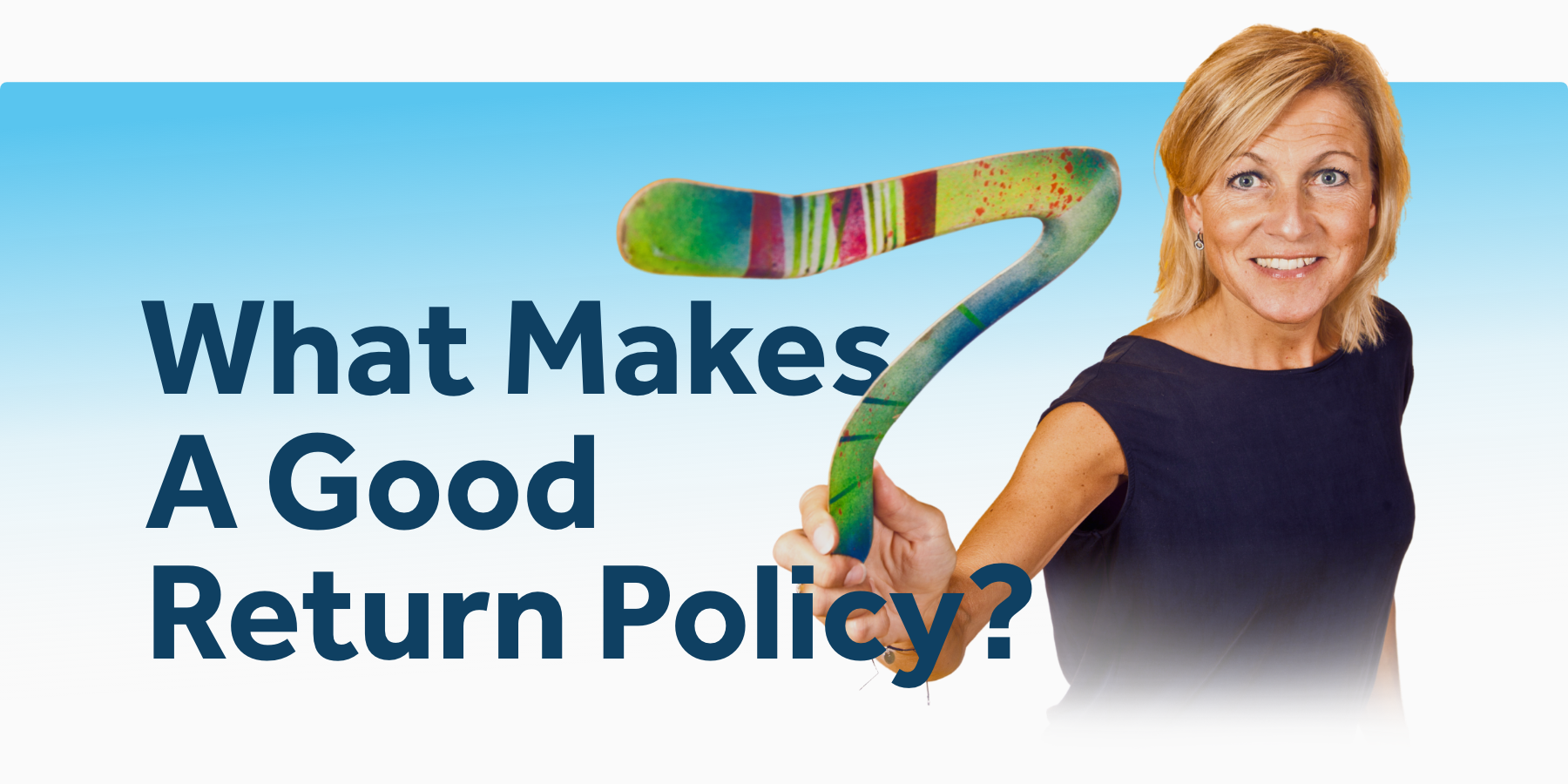 There are some eCommerce merchants that believe if they hide their return policy, customers will not look for it to use. However, this is simply not the case. Whether you have a return policy in place or not, if a customer is dissatisfied with your merchandise, they are going to send it back to your store and request a refund.
It can be very tempting for a business owner to ignore a return policy. If you strongly believe in the quality of your merchandise, a well-advertised return policy can be an effective marketing tool. However, leaving the problem unaddressed can negatively affect your customer experience, leading to a decrease in conversion, negative customer sentiment, and a reduction in repeat sales.
That's why this week in the ClickShip blog we'll be looking at the role of the return policy in a good eCommerce strategy. We'll touch on why you need one, how it can affect your business for the better, and how to write a policy that works best for you and your customers.
Why Have A Return Policy?
Before we discuss how best to write a return policy for your eCommerce store, let's look at why it's important to have one in the first place.
At first glance, the idea of implementing a return policy may feel like it reflects negatively on your product's quality. Ultimately, though, a savvy businessperson will recognize that a solid return policy will have a far more positive impact on one's brand.
A return policy provides customers with clear policies for any items purchased from the store. Having a return policy in place builds trust with your customers as you are given the chance to prove to your customers how you truly value their long-term satisfaction over a one-time sale.

Source: Soocial
What Are The Advantages Of Having A Return Policy?
Having a customer-centric return policy in place can be very beneficial to your business's marketing strategy. Consumers want to buy from an online store that has strong, clear return policies. Many businesses have realized this and now advertise "easy", "free", "money back", "no-hassle", or "worry-free", returns to increase their conversion rates and online purchases.
As the cost to acquire new customers rises, many businesses are looking into retaining their customer base and growing with them in the long term. Merchants have realized positive reviews, experiences, and recommendations all pay off as free marketing to a business that wants to be prosperous now and into the future.
By having a return policy in place, you not only build confidence, increase sales, and attract new customers, but you are able to manage customer expectations and communicate in a professional manner to help save time and reduce fraudulent returns.
Where Should You Put A Standard Return Policy?
It's best practice to have your return policy outlined in a few different places throughout your website. This will help to ensure that your customers will not have to seek it out and will improve your customer experience.
Common areas where one can make their return policy available can be on your website's banner, footer, FAQ page, product pages, order notification emails, and website chats. Being clear and upfront about your store's policy communicates the store's expectations and customers will become more trusting when it comes down to making a purchase on your site.

Source: SimiCart
What Should A Good Return Policy Cover?
Typically, a good return policy will outline the following:
What items can be returned or exchanged?
What products are non-returnable, non-exchangeable, or a final sale?
How long does a customer have for the time period to make a return before it is not acceptable?
What is the acceptable condition in which the merchandise can be returned? (i.e., original packaging, original condition, etc.)
How does the customer start a return, exchange, or communicate a problem they are experiencing with their order?
How should the customer contact your eCommerce business if they have questions or concerns?
How does your eCommerce business handle lost or damaged returned items?
What shipping fees will the customer or your business have to pay?
What restocking fees will the customer need to pay if any?
With all that said, when the time comes to implement your return policy, remember to follow the steps below to help ensure you are maximizing your policy's impact on the customer experience.

Steps to maximize return policy:

1. Develop a policy that informs and builds trust with your customers.
2. Communicate clearly and be concise when writing a policy.
3. Be straightforward to your customers in a kind and respectable manner.
4. Make your return policy accessible on your eCommerce site.
5. Remember having a simple return process is critical.
6. Ensure you communicate with your internal team about the return and refund policies.
7. Own up to any mistakes made on your end and take responsibility if an order goes wrong.
8. Provide a model to showcase your policy in action.


Take Your Customer Experience Further With ClickShip
When all is said and done, having a good return policy is simply an extension of your business' shipping and fulfillment strategy, and for the most advanced eCommerce shipping and fulfillment solution, ClickShip is here for you.
With ClickShip, you have access to:
Unlimited Marketplace Integration(s): Automatically connect your online store(s) with ClickShip!
Custom Branding: Write messages, provide directions and showcase your online store(s)

proprietary name

! See more information on our Advance Custom Branding Landing Page
Print Shipping Labels, Packing Slips, and Return Labels: Get your own labels and add your own carrier accounts with every order!
Send Automated Notifications: Inform your customers and keep them updated on their latest deliveries!
Optimal Packaging Options: Manually control your shipments even on the go! See more information on our Ship Smarter, Not Harder: Key Features of ClickShip's Smart Packaging
Still haven't signed up with ClickShip yet?