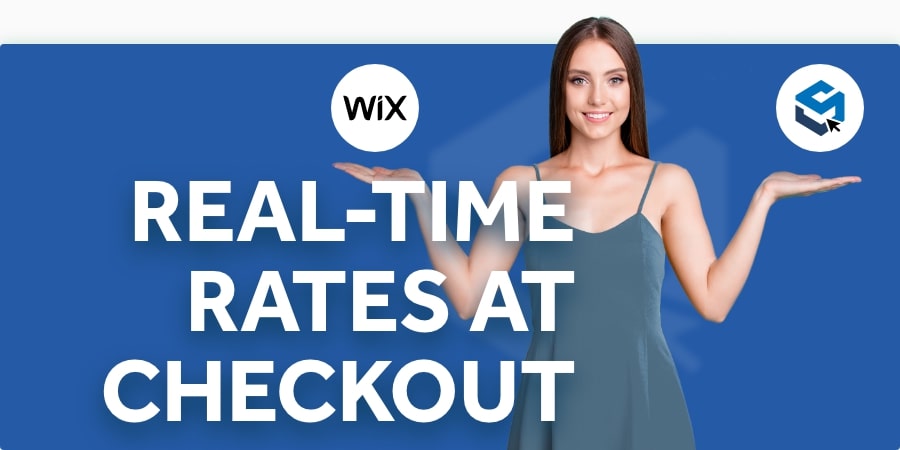 Attention WIX Users: Real-Time Rates at Checkout is now offered on ClickShip and it's free!
At ClickShip we know that deciding how much your eCommerce business should charge your customers for shipping, can be a hassle. You may not always be able to offer 2-day delivery or free shipping to your customers as it may impact your margins. Shipping to customers that are scattered across the country or even globally can make shipping prices even more difficult. You also don't want to overcharge your customers forcing them to pay too much at checkout, increasing your abandon cart rate. Thankfully ClickShip's Real-Time Rates can now help Wix users to display rates directly at checkout!
When we say that ClickShip is an all-in-one eCommerce shipping solution, we mean it, and our team works tirelessly to ensure that we are truly able to offer businesses the best eCommerce shipping services that scale with your business.
With Wix Real-Time Rates at checkout, you can give your customers a more accurate rate for shipping and more choices for them to select from. ClickShip's shipping rates are calculated in real-time directly when your customer enters their shipping address. ClickShip determines the best shipping method, carrier, and transit time for your customer right at checkout. What does this mean for your eCommerce business? Our real-time shipping rates will help your business reduce shipping and fulfillment costs. Let's grow your eCommerce business faster by offering better shipping rates to your customers at checkout.
What Does Wix Real-Time Shipping Rates Mean?
ClickShip is offering Wix Real-Time Rates at checkout to give your customers access to shipping rates from selected carriers, based on package dimensions and package type. At ClickShip your Real-Time Rates will automatically be displayed at your WIX website's checkout, once enabled. Real-time shipping rates allows your eCommerce business to be as transparent as possible to your customer. You want your actual costs to reflect accurately which is now possible with ClickShip.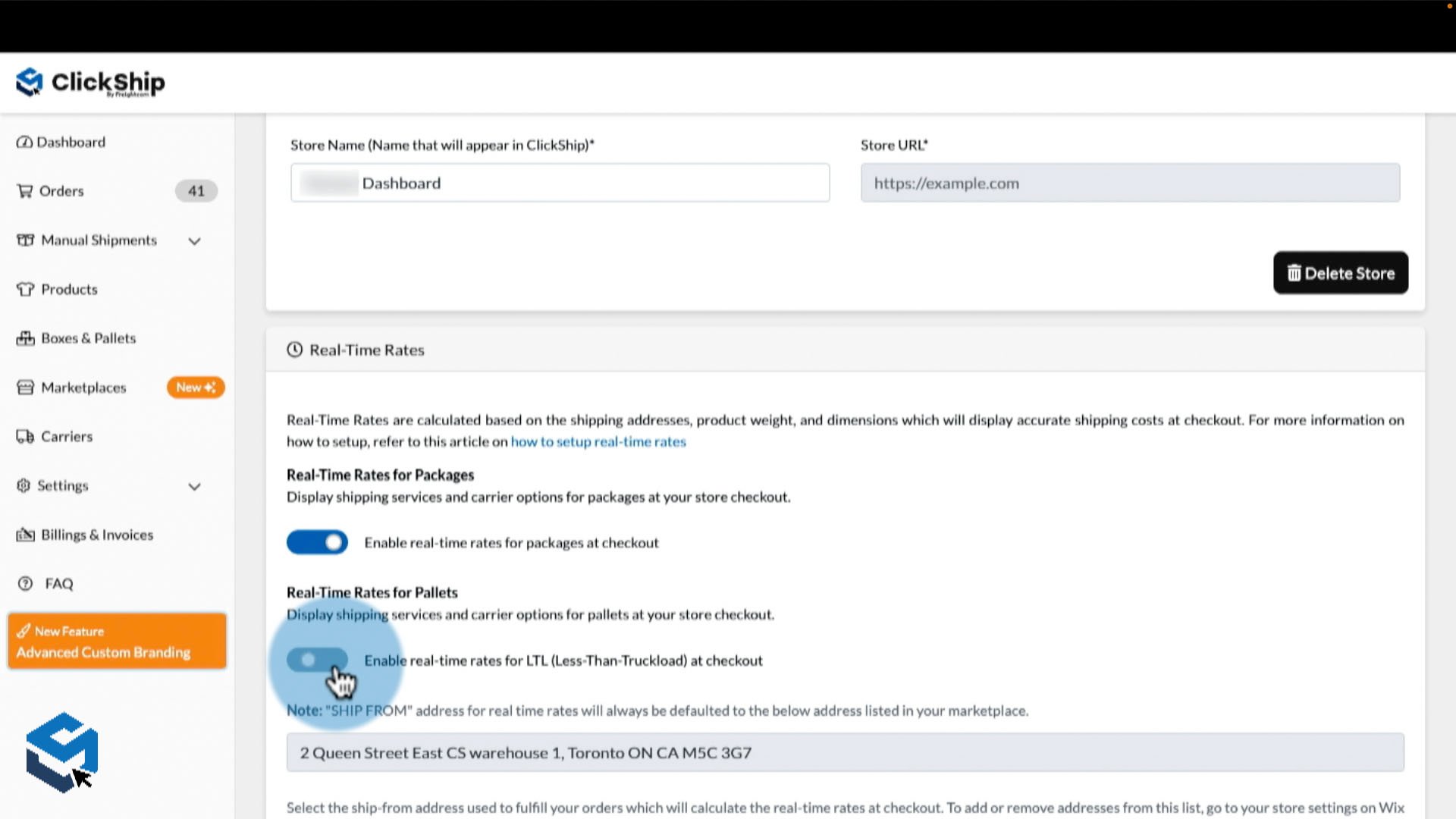 Real-Time Rates Enabled for Wix on ClickShip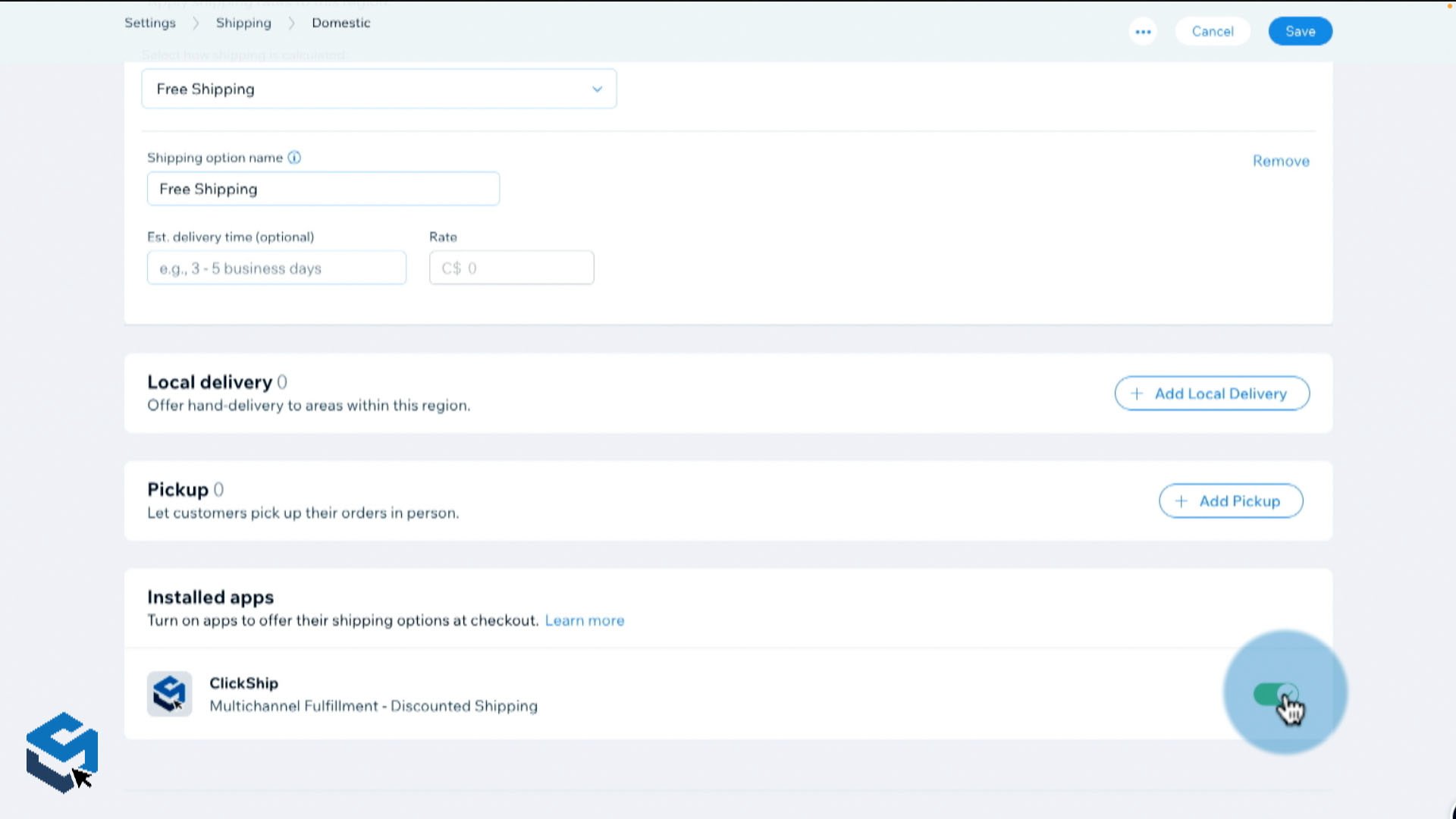 On Wix, Real-Time Rates Are Enabled For ClickShip
What are the Benefits of Real-Time Rates?
As you know manually setting your shipping rates is not always exact and can be very time-consuming, especially with many orders coming through with different criteria. Tired of averaging your shipping costs for specific zones or geographical segments? With ClickShip's Real-Time Rates at checkout we help you in the following five ways:
1. Automatically Calculated Shipping Rates:
Your customers will be able to see Real-Time Rates and select carriers at checkout. Your eCommerce store will not have to do shipping calculations to deliver the best rate to your customer. With ClickShip you have the following two options for Real-Time Rates at checkout:
Real-Time Rates for Package:

Real-Time Rates are calculated on individual packages at checkout.

Real-Time Rates for Pallet:

Real-Time Rates are calculated for products that need pallets at checkout.

Real-Time Rates for One SKU Products that have Multiple Boxes: Our One SKU Multi-Box feature is perfect if your single SKU requires more than one box during the shipping process.

Learn more here about

OneSKU Multi-Box: A Better Way to Ship


2.
Enhanced

Shipping Visibility:
With Real-Time Rates at checkout, shipping costs will be automatically displayed right at checkout and will update instantly when changes are being made. This real-time visibility reduces surprises during the checkout process for customers. More than ever before, shippers are seeking to implement Real-Time Rates for their eCommerce stores as it allows them to better streamline their operations. With streamlined operations in your eCommerce business not only do you have greater transparency, but you are able to improve communication, increase productivity, better time manage and minimize risks long-term.
3.
Increased Sales & Reduce Abandoned Carts:
High shipping costs is the main reason customers abandon their online shopping carts. With ClickShip we can help decrease the number of cart abandonments on your eCommerce store by giving you the best shipping rates in real-time. This real-time visibility for customers is exactly what they are looking for when they are at the final stages of their purchasing decision.
4.
Reduced Shipping Costs:
As an eCommerce store, Real-Time Rates provides significant advantages. In addition to Real-Time Rates, we partner with top-tiered carriers providing the most cost-effective shipping rates for a wide range of products. Using ClickShip's Real-Time Rates will lower your shipping costs allowing you to allocate those funds elsewhere in your business. Reduced shipping costs from our Real-Time Rates will also help generate more demand for your products as customers will purchase and repurchase from your eCommerce store at higher rates.
5.

Increased Customer Satisfaction & Loyalty:
Providing Real-Time Rates on your eCommerce store increases customer satisfaction with their purchase when they know the shipping costs upfront, this, in turn, increases your customer's satisfaction with shopping at your Wix store. By having ClickShip provide your eCommerce business with Real-Time Rates it demonstrates to customers that your business values their time and money, which can further increase your customer's loyalty and get more repetitive purchases as they enjoy shopping on your online store.
Wix Real-Time Rates Installation:
To install Real-Time Rates, you will first need to integrate your Wix store with your ClickShip account. Learn more about integrating your ClickShip account with Wix by checking out this article here: ClickShip Now Integrates with Wix
Are you Ready to install Real-Time Rates in your Wix store? Watch our Wix Integration and Real-Time Rates video to install and enable it for your store!
Get the Best Real-Time Rates with ClickShip
If you aren't familiar with ClickShip there truly has never been a better time to let us help you with your eCommerce shipping strategy!
Our easy-to-use, eCommerce platform helps you find the best Real-Time Rates on domestic, cross-border, and international parcel shipping, as well as domestic and cross-border LTL shipping. We partner with North America's top leading carriers to offer you the very best shipping services, all for zero upfront and monthly fees!
Contact one of our shipping experts today and let ClickShip help your business grow faster, ship smarter, and save more.
Haven't become a ClickShip customer yet?